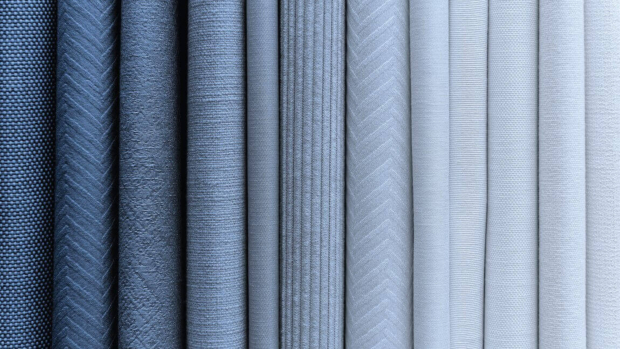 From medical environments to processing plants to remediation sites and crime scenes, determining the right type of fabric to wear to keep yourself properly protected from the hazards you can encounter is incredibly important - and not all fabrics are created equal. However, with so many professions requiring their workers to don personal protective equipment (PPE), it can be difficult to determine just what fabric is right for your work environment.
This post sets the record straight. Read on as we take a closer look at seven common fabrics used in today's PPE. We'll discuss how they're designed to keep you safe, their capabilities, and what environments they're ideal for. We'll also discuss some of International Enviroguard's proprietary fabrics and how they're designed to keep you safe in a wide range of environments.
7 PPE Fabrics (and How They Work to Keep You Safe)
1. Microporous Fabric
Comprised of breathable and laminated microporous film, this non-woven fabric is known to provide a barrier against biological pathogens. The microporous size is smaller than a water drop but larger than moisture vapor, preventing liquid and blood penetration. With a high moisture vapor transmission rate (MVTR), body heat and moisture can escape the suit to keep the wearer cooler than other fabrics. It's also soft to the touch, which makes it comfortable to wear over long hours.
Microporous fabric is used in a variety of protective clothing articles, from gowns and full-body suits to coveralls, aprons, and even boot and shoe covers. Microporous fabric is known for resisting blood and liquids, meeting ASTM 1670 anti-blood penetration standards. It's also known for its durability and abrasion resistance, so it holds up in tough work environments.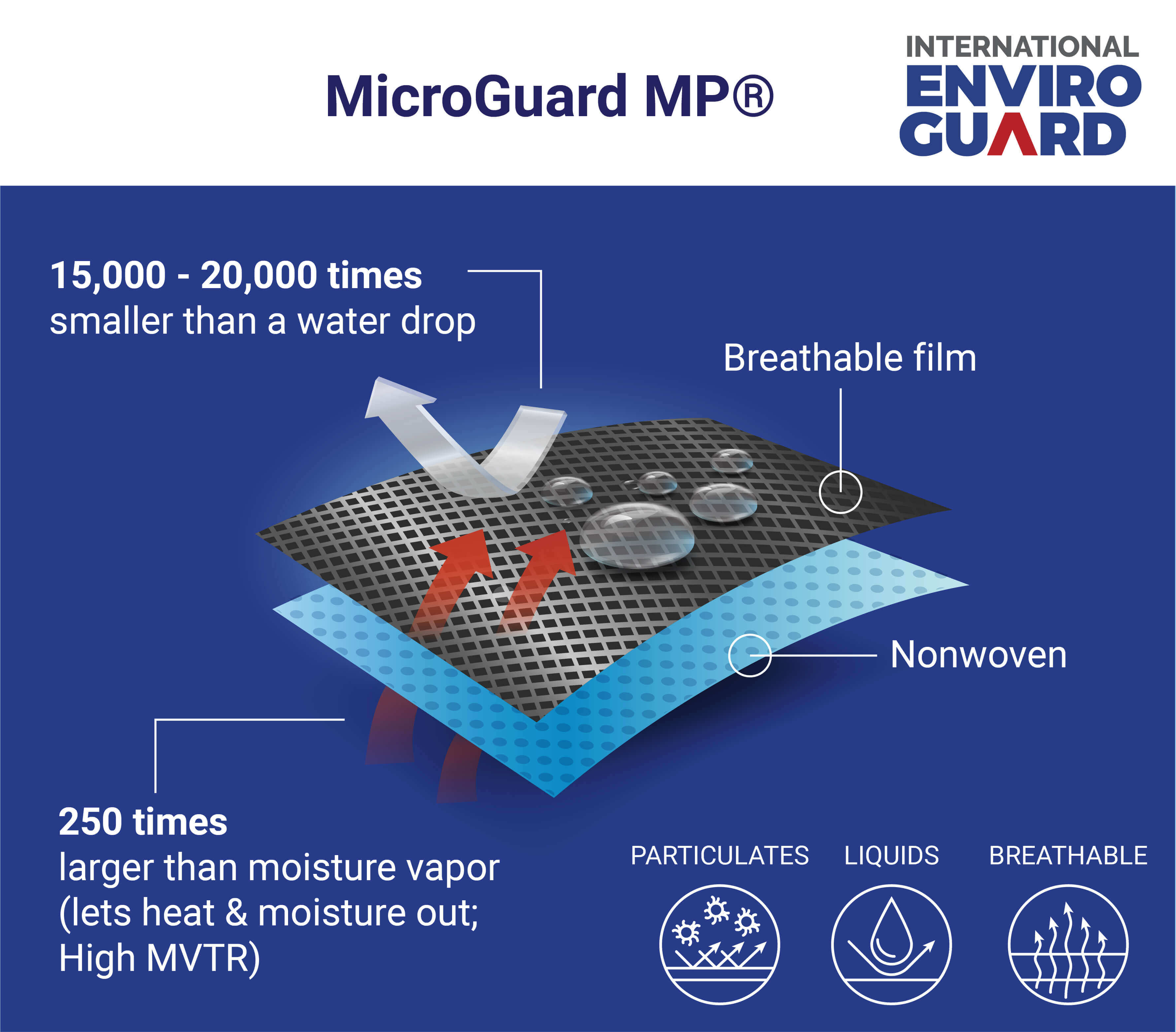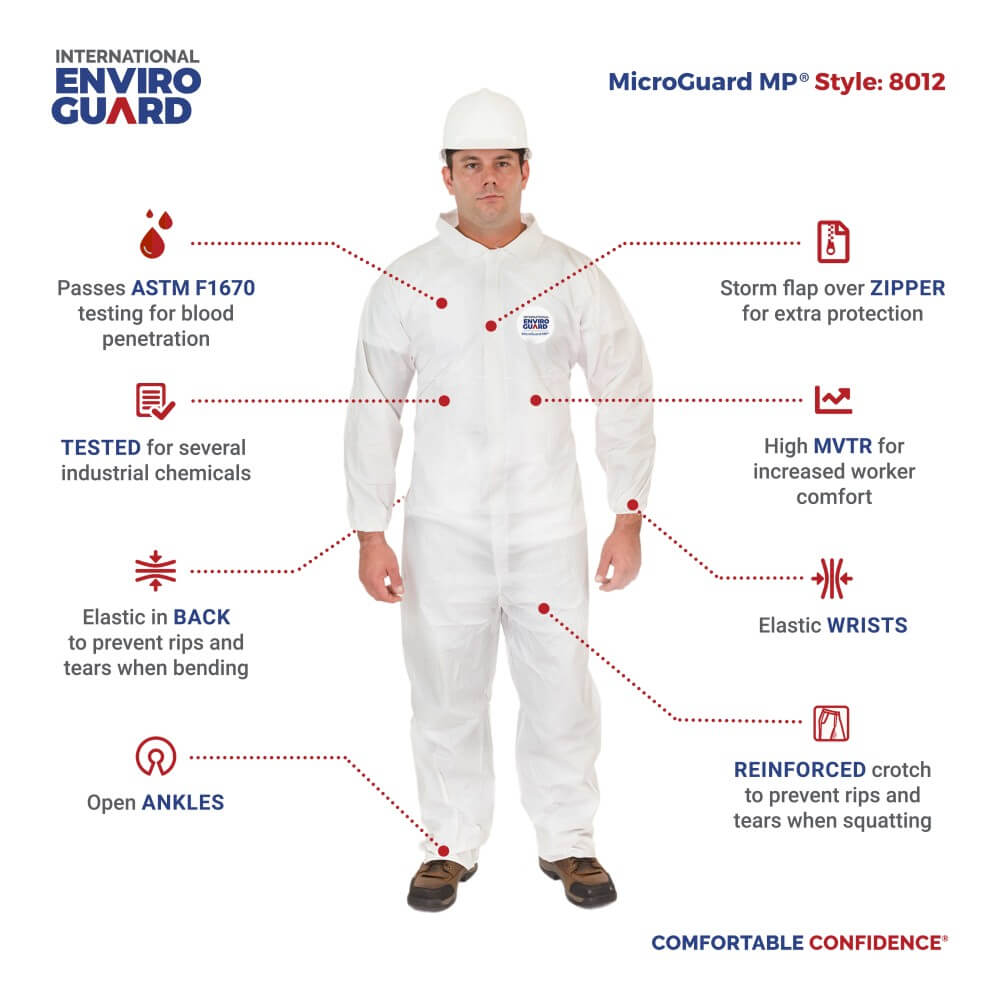 View our microporous garments including lab coats, sleeves, shoe covers, coveralls and more
2. Spunbond Meltblown Spunbond (SMS)
From surgical face masks to cartridge filters to safety clothing and sheets, spunbond meltblown spunbond, or SMS, is a tri-laminate, non-woven fabric commonly used in medical environments. As the name implies, it consists of three layers - a top layer, which consists of spunbond polypropylene (PP), a middle layer, which consists of meltblown PP, and a final, bottom layer that also consists of spunbond PP. Layered fabric helps make SMS strong and durable to protect against light liquid splashes and sprays, while also providing an excellent particulate barrier. 
Understanding the SMS fabric layers
Spunbond PP: This layer of fabric does not use chemicals and consists of a web of spun polypropylene. It is lightweight with high air permeability and has high tear and abrasion resistance.
Meltblown PP: The middle layer of SMS consists of Meltblown PP. A melted polymer is blown with hot air to stretch it to create thin microfibers or filaments. This process ensures the microfibers are randomly laid to create a nonwoven and self-bonded web as the polymer cools. The web is then compressed to create the fabric layer. Nonwoven Meltblown fabrics are porous, allowing for filtration of liquids and gasses.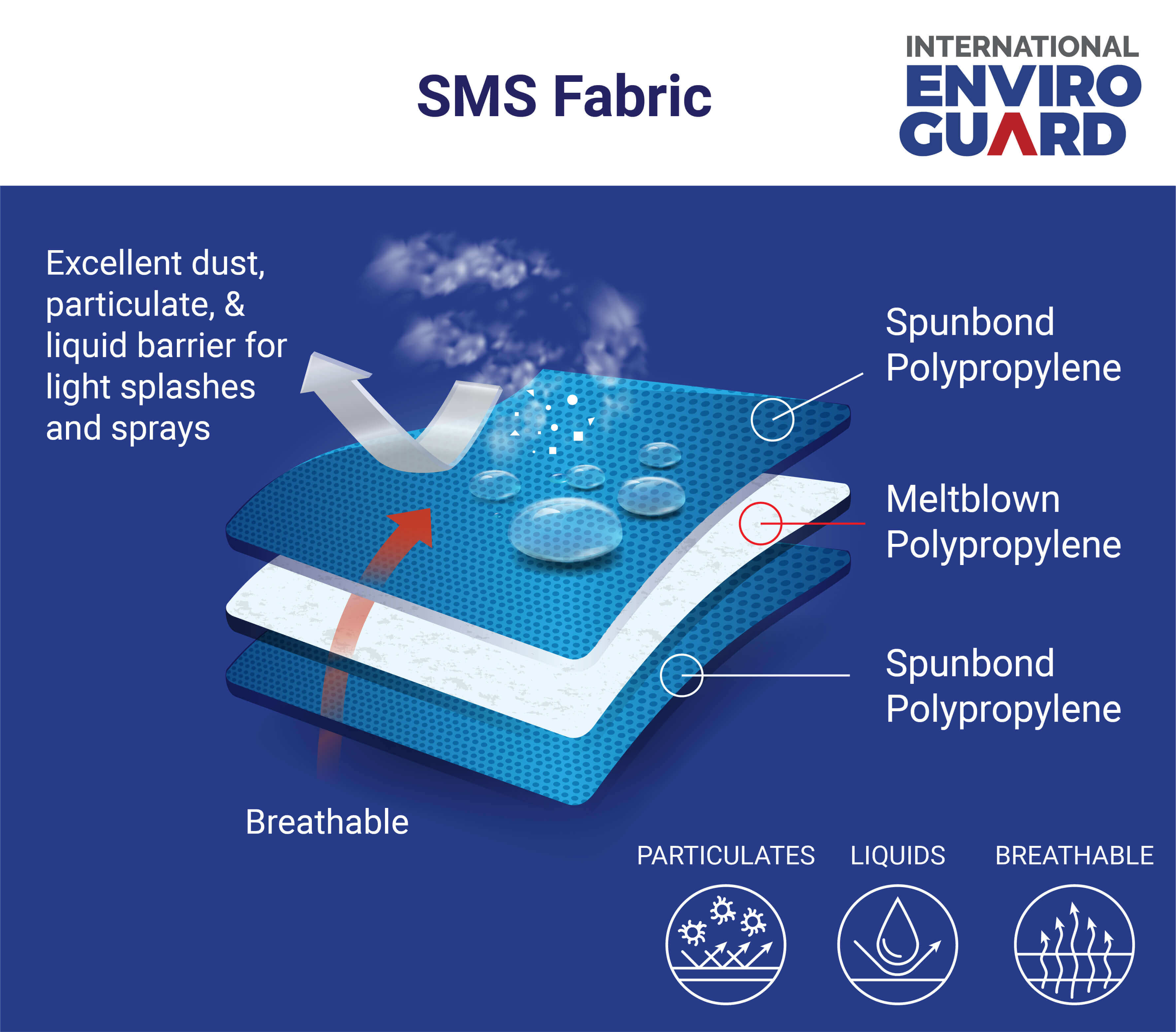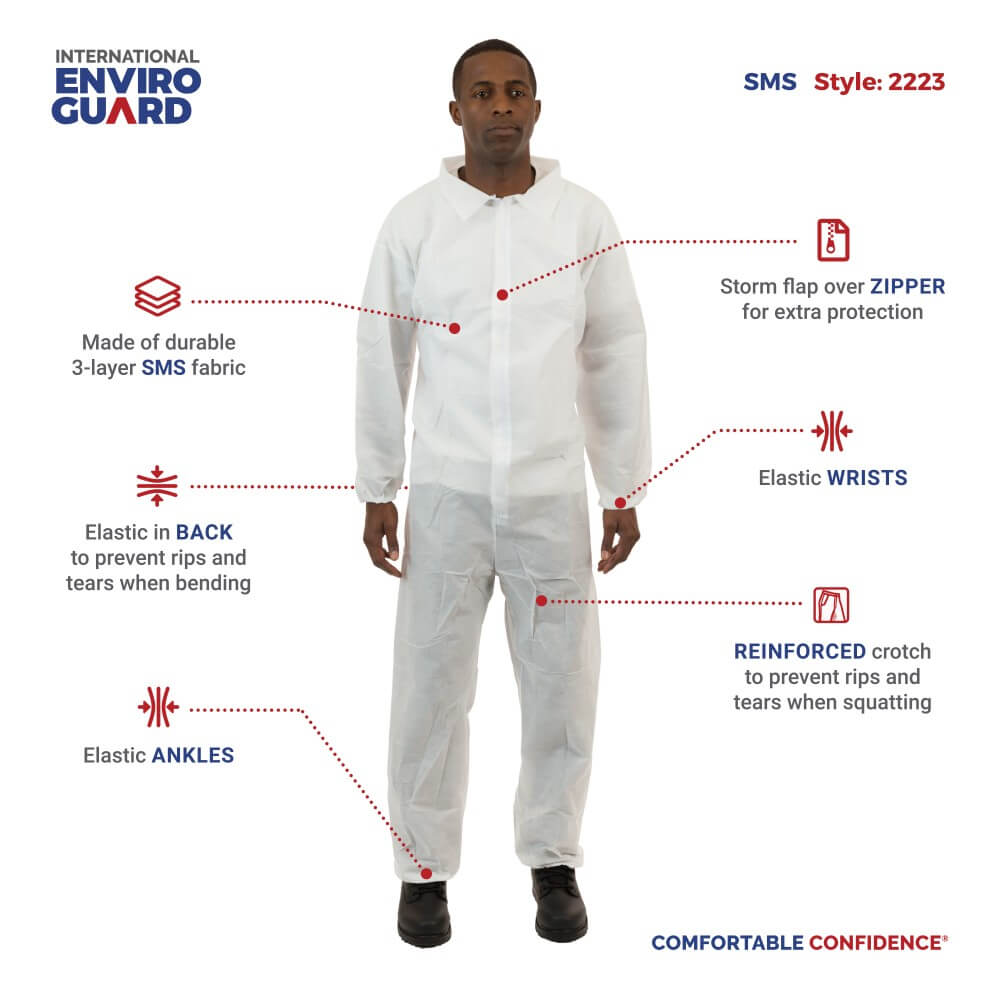 Explore our wide range of SMS protective clothing and accessories
3. Spunbond Meltblown Meltblown Spunbond (SMMS)
Spunbond meltblown meltblown spunbond, or SMMS, is similar to SMS except it contains one additional middle layer of meltblown PP. The extra layer in this fabric offers an additional protection compared to SMS. It's typically used for creating Association for the Advancement of Medical Instrumentation (AAMI) Level 3 and Level 4 gowns. These gowns are the most protective, passing tests for liquid impact caused by splashes and sprays (AATCC 42), and liquid pressure resistance when a liquid is applied to the fabric surface with pressure (AATCC 127).
4. Polypropylene (PP)
Polypropylene is a lightweight, tear-resistant fabric that helps protect against non-hazardous materials like dust, dirt, and grime. It also provides a level of protection against light liquid splashes and sprays. This breathable, non-woven fabric is commonly used in PPE or clothing where moisture transfer is needed.
Possible applications for this fabric include food processing, construction, pharmaceuticals, environmental cleanup and more. Its low cost and economical protection make it a widely used fabric in the protective apparel industry. From coveralls and bouffants to beard restraints, shoe covers, lab coats, smocks, and more, polypropylene protects workers across numerous industries and work environment applications.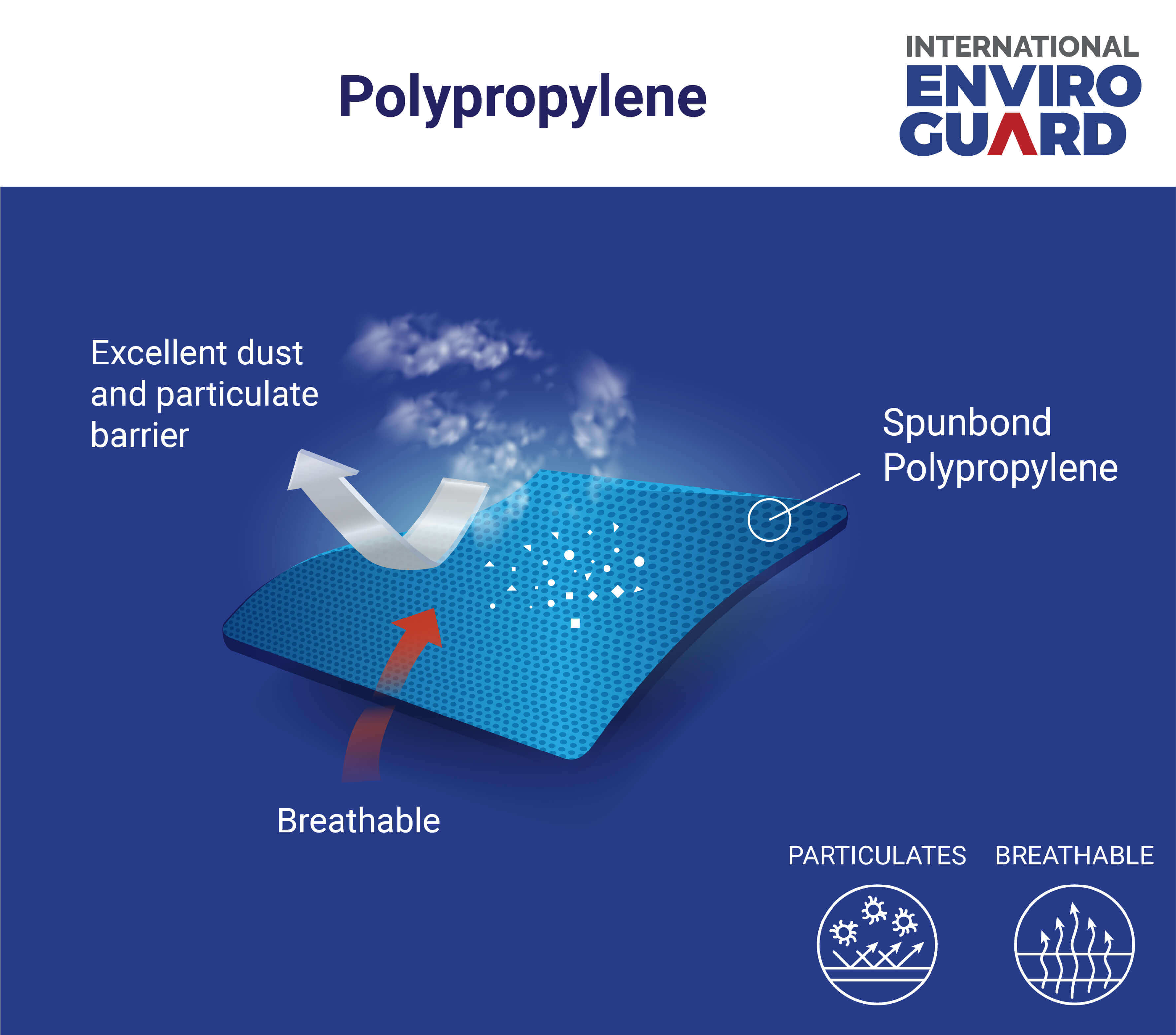 Browse our inventory of disposable, polypropylene protective clothing and accessories
5. Polyethylene (PE)
Polyethylene, or PE, is a plastic film that offers a degree of chemical resistance as a fabric. It's commonly offered in a single layer of plastic film, though thicker gauges are available. Though thin, it is fluid-resistant and durable. One of the drawbacks to PE is that it doesn't offer ideal breathability. Unlike polypropylene (PP), which tends to resemble a more porous, cloth-like material, PE looks and feels more like plastic.
PE is strong and resists staining, abrasions, particulates like dust, and liquid splashes or sprays. It is impervious to many non-hazardous liquids making it ideal for when working with biological or chemical hazards. This fabric is also commonly used in food, construction, agriculture, refractory, and oil and gas industries.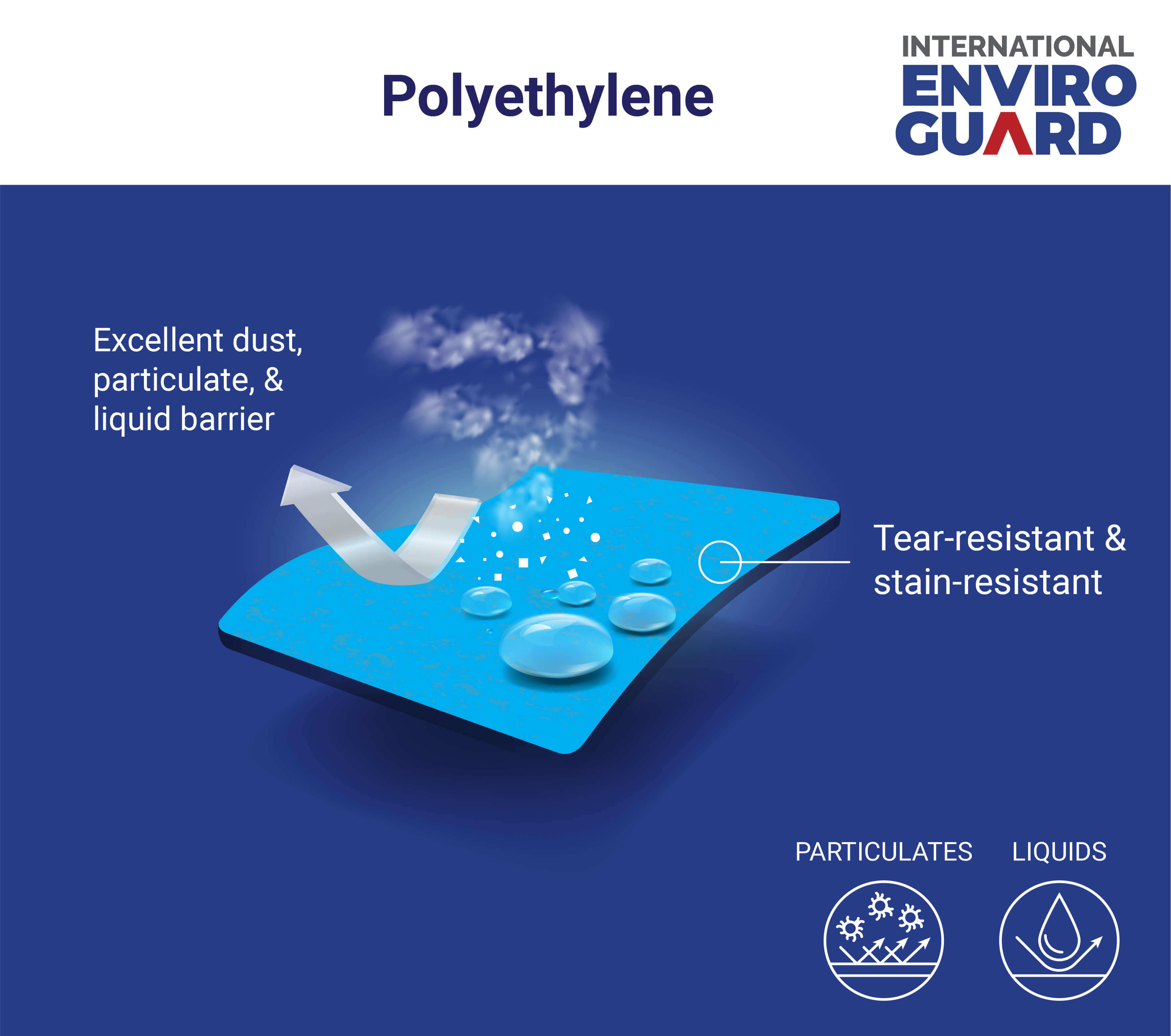 6. Polyethylene Coated (PE Coated)
Polyethylene coated, or PE coated, is a lightweight and multi-layer coating. Fabric is reinforced with an impermeable coating on both sides to protect against chemicals and other liquids. It is commonly used in gowns to safeguard against bodily fluids, including sprays and splatters. These garments also provide protection from lead and asbestos, making it ideal for remediation projects.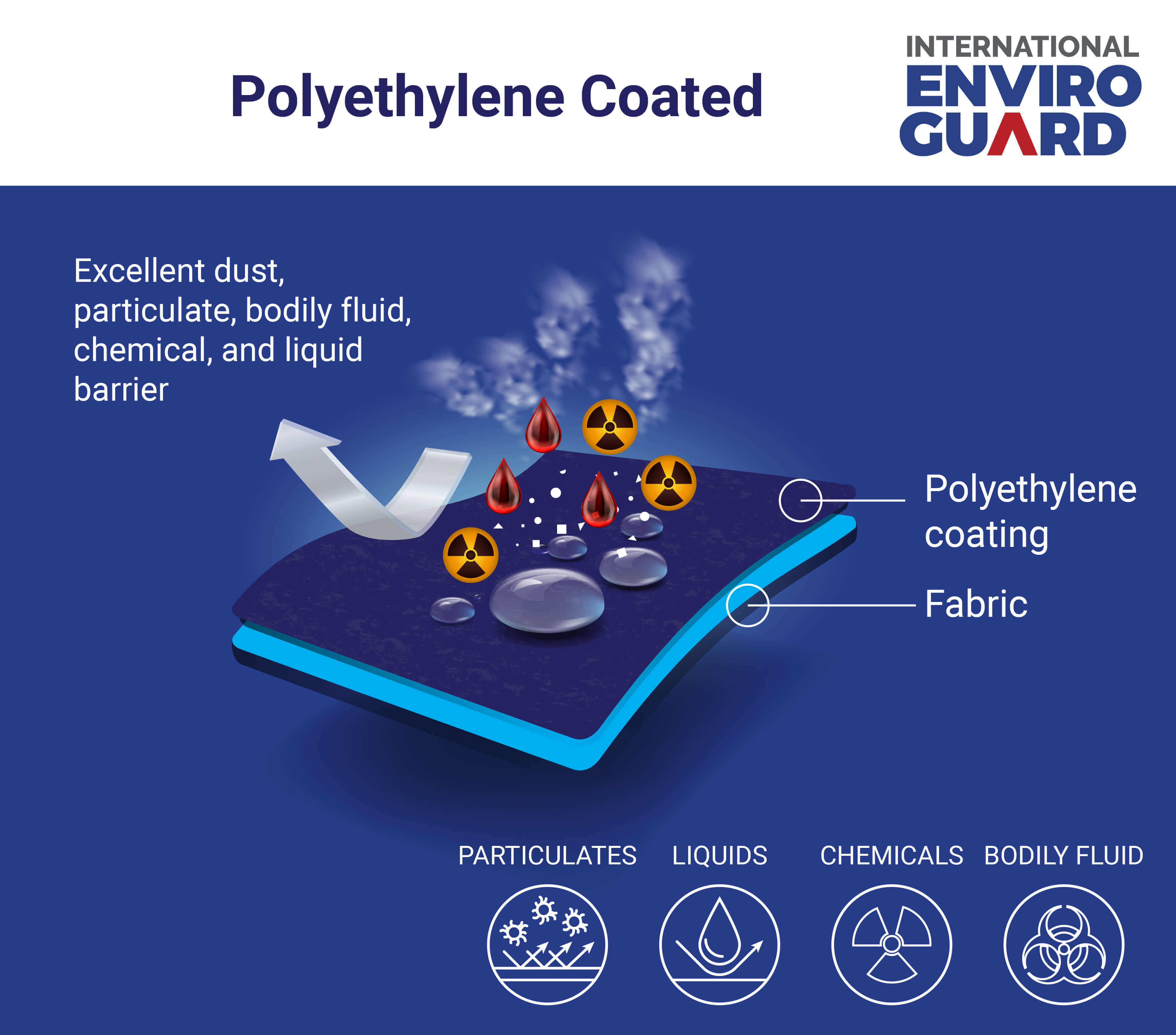 View all International Enviroguard's PE Coated clothing and accessories
7. CPE
CPE, or chlorinated polyethylene, offers a variety of features that make it ideal for PPE accessories. For example, it helps provide an effective microbial barrier to help prevent infection and contamination. The material is also waterproof and repels blood. It is more durable than polypropylene helping protect against a broad range of chemicals, dirt, dust, liquid splash, non-hazardous particulates, and even shallow immersion. Increasing the chlorine content of polyethylene improves oil resistance, air permeability, and flame retardancy of the CPE product.
Unlike some other types of PPE, CPE is a comfortable fabric to wear. This is largely because the material is breathable, allowing body heat and moisture to escape. CPE accessories come in a variety of different thicknesses and are often used as aprons, full-body gowns, gloves, shoe covers, and more. Whether working in a cleanroom, a hospital, or a commercial site, CPE protective clothing provides heavy duty protection around the clock.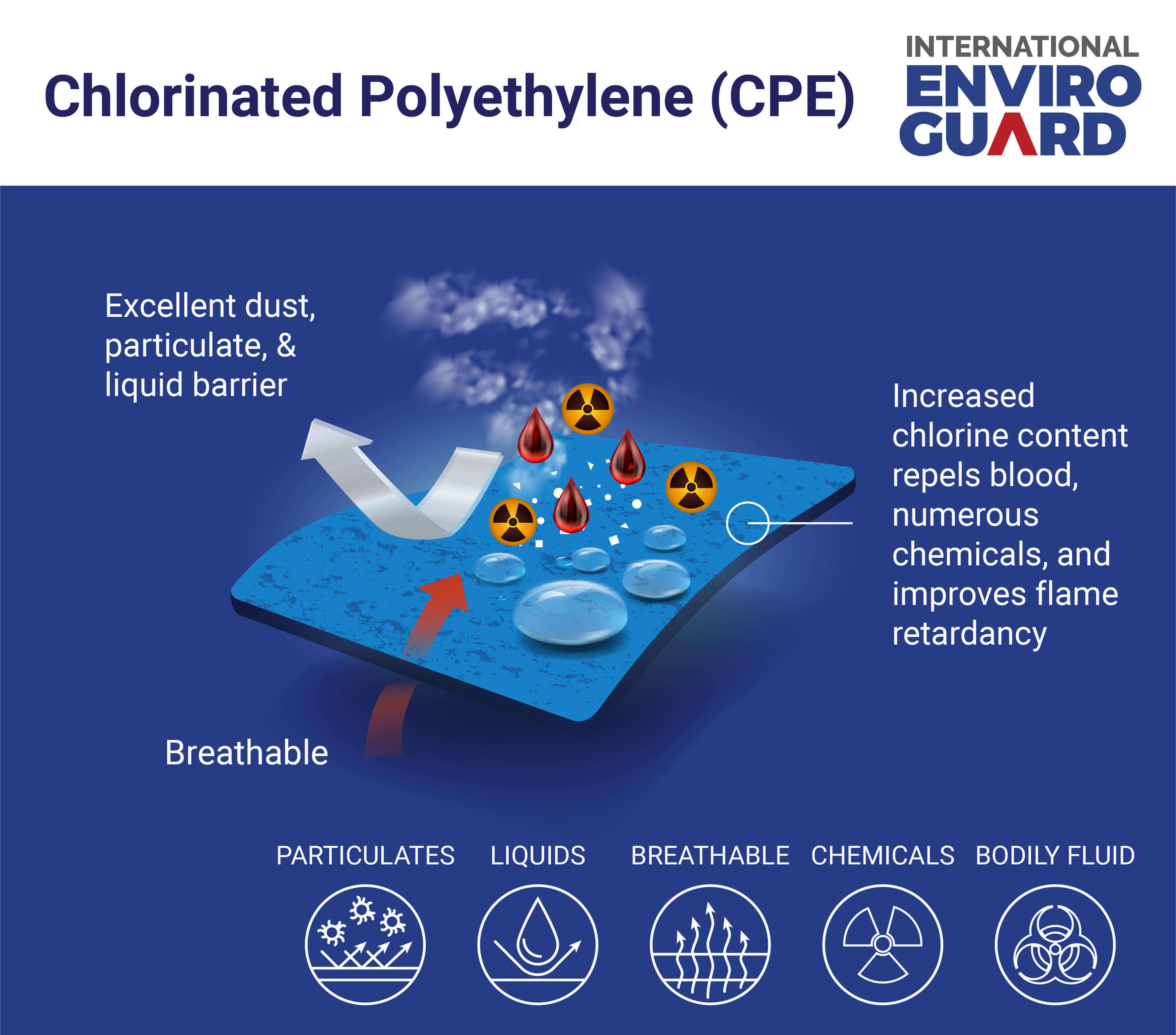 International Enviroguard Proprietary Fabrics
Designed to safeguard the body against chemicals, fluids, and other contaminants, International Enviroguard offers a wide range of proprietary fabrics for use in environments ranging from medical to industrial processing to restoration to remediation. These include:
You don't ever want to chance safety. This is why it's important to know the key fabrics used in PPE and to select the appropriate material for the environment that you're working in. For more information on the key PPE fabrics and to learn more about International Enviroguard's offerings, contact us today.