Cannabis Cultivation: Safety for Plants, Consumables, and Industry Workers
The commercial cannabis industry has quickly grown into a booming business. While much of the industry's attention has been rooted in the debate surrounding legalization versus the use for medicinal purposes, workplace safety and health programs have received less focus.
Commercialized growing operations continue to develop and look for the best grow room PPE, including disposable cannabis PPE that protects workers from hazards on the job and protects the plants from particulates that may be carried in with the worker.
Safety Issues in the Cannabis Industry
Growers and extractors are exposed to a variety of workplace hazards that often mirror those in similar processing and agricultural sectors. Hazards range from biological, chemical, and physical hazards such as elevated noise levels, pressurized equipment, confined spaces, and ultraviolet (UV) light.
Cannabis industry workers can be exposed to hazardous substances including fertilizers, pesticides, and fungicides. As a result, it's important that the correct grow room clothing is worn to protect workers and plants alike. According to the Occupational Safety and Health Administration (OSHA), using PPE in addition to other mitigation strategies may be required to reduce the risks and keep workers safe.
Chemical Hazards in the Cannabis Industry
Chemical hazards in the form of fertilizers and other plant nutrients, carbon dioxide (CO2), carbon monoxide (CO), fungicides used to reduce mold growth, pesticides used to reduce insect populations, disinfectants, and cleaning chemicals are used throughout the processing and cultivation of cannabis. Exposure via inhalation and/or skin contact can cause respiratory irritation, chemical burns, and skin rashes.
Cannabis Industry Biological Hazards
Biological hazards vary but are often centered around the presence of mold and its health effects. To thrive, cannabis requires workers to increase humidity levels. This can increase the growth of molds, which often affect the respiratory system.
Additional exposure via the skin and inhalation of cannabis materials, such as resin, can result in some cannabis cultivators experiencing allergic reactions and hypersensitivity in the form of swollen eyes, itchy skin, rashes, and other symptoms.
Physical Hazards in the Cannabis Industry
Physical hazards present within the cannabis industry reflect those used in the extraction and processing of other types of plants. Pressurized equipment, extraction equipment, and other machinery are often used and can cause serious harm if used incorrectly.
Compressed gas, lighting equipment, combustible liquids, and cleaning chemicals are also common and present a massive fire hazard. Workers could be exposed to explosions, fires, burns, frostbite, and skin rashes.
Confined spaces, such as a grow tent or greenhouse, also present their own level of risk. The potential for harmful gases to accumulate in high concentrations can be deadly without proper indoor air quality monitoring.
OSHA and Protecting Cannabis Workers
The Occupational Safety and Health Administration (OSHA) requires that businesses provide their employees with the least hazardous workplace based on controls developed around the agency's pre-approved hierarchy.
Once these steps are implemented, personal protection equipment (PPE) can be integrated into the workplace if risk remains. For many companies within the cannabis industry, this means using PPE in addition to other safety program controls that are designed to limit workers' exposure to workplace hazards.
Managing Risk: Grow Room Clothing for Worker and Plant Safety
Disposable protective clothing offers a wide variety of cost-effective safety options that don't sacrifice worker or plant safety. Your protective clothing should be able to fit over a dispensary uniform or street clothes without restricting movement or causing heat buildup. Look for grow room clothing suppliers and manufacturers whose products meet the ANSI/ISEA 101-2016 standard for garment sizing to ensure higher mobility and comfort.
International Enviroguard offers multiple lines of cultivation clothing and grow room accessories to support a safe and healthy workplace and reduce work-related injuries and illnesses. Whether you need cannabis workwear for growers, harvesters, processors, extractors, labs, or retailers, International Enviroguard has you covered.
Disposable SMS Coveralls
SMS protective apparel provides cannabis cultivators with three protective layers, without compromising comfort. In addition to offering a superior particulate barrier, SMS products are suitable for protecting workers from sprays and light splashes. SMS fabric is also highly breathable, making it ideal for outdoor growing operations and humid conditions.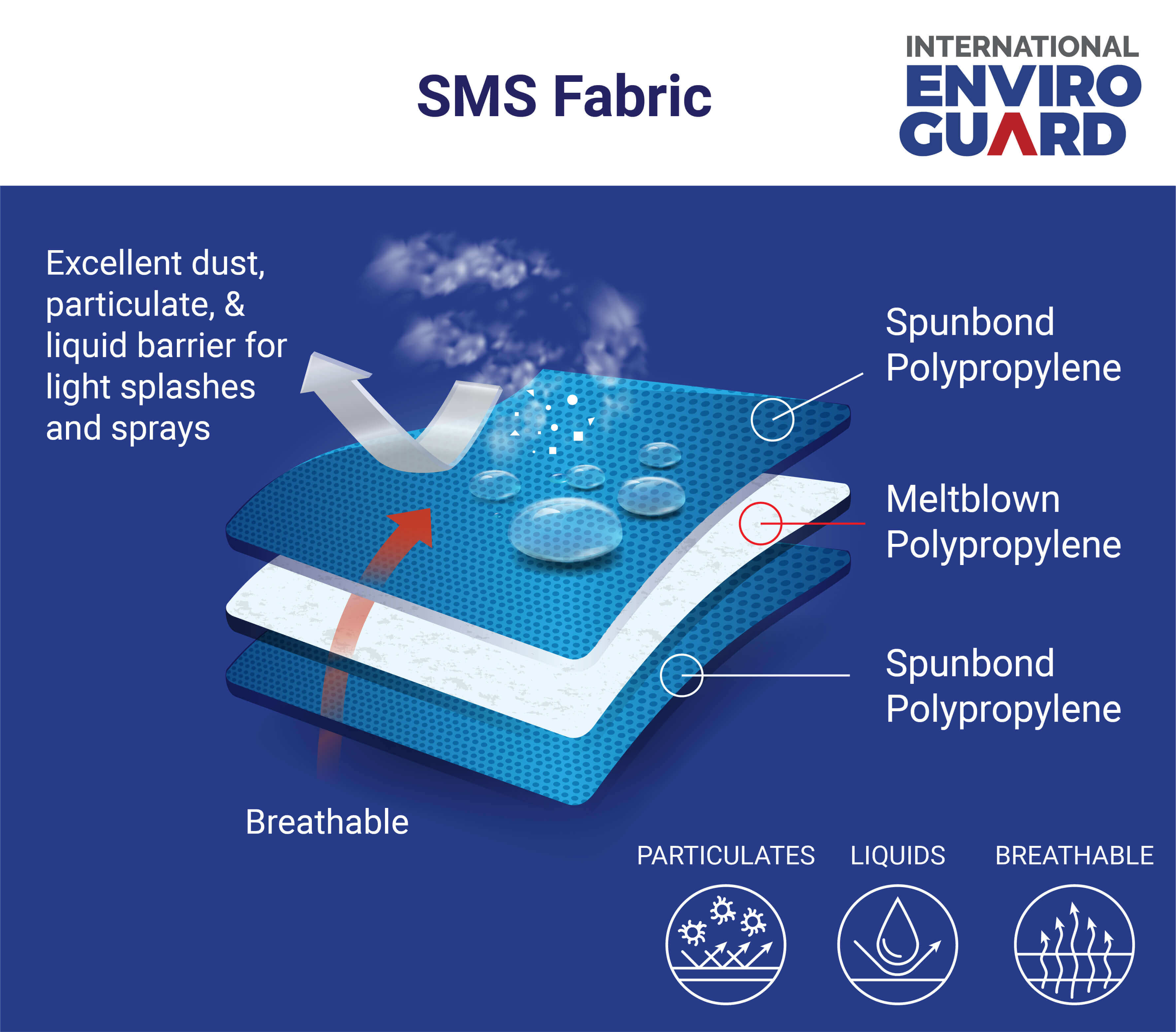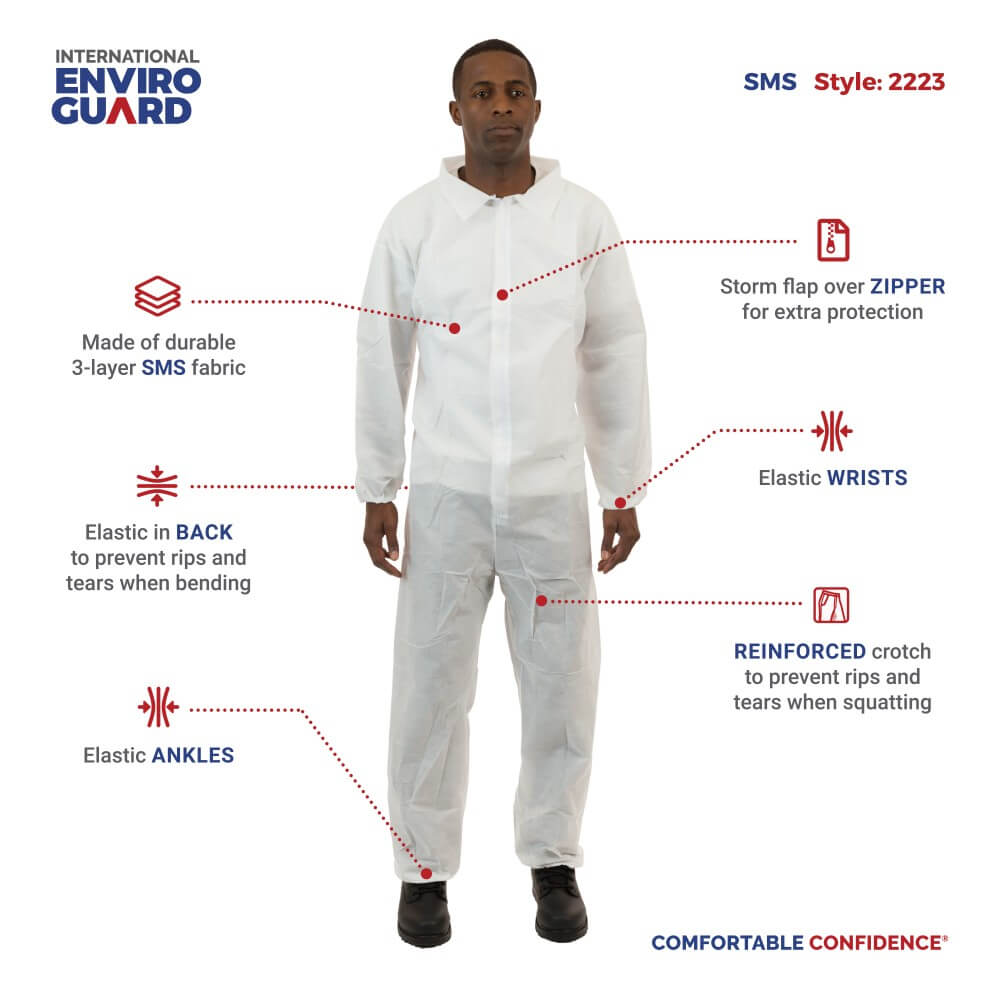 Microporous Coveralls
MicroGuard MP® has been tested for use with several of today's most commonly found chemicals. Our cannabis industry workwear is designed to provide an excellent barrier between employees and potentially harmful particulates and liquids. This line of grow clothes features an innovative and comfortable suit design that makes it easy to move about freely, stay cool, and comply with safety regulations.
MicroGuard MP® also offers lab coats, pants, shoe and boot covers, sleeves, hoods, aprons, and more to meet your safety needs.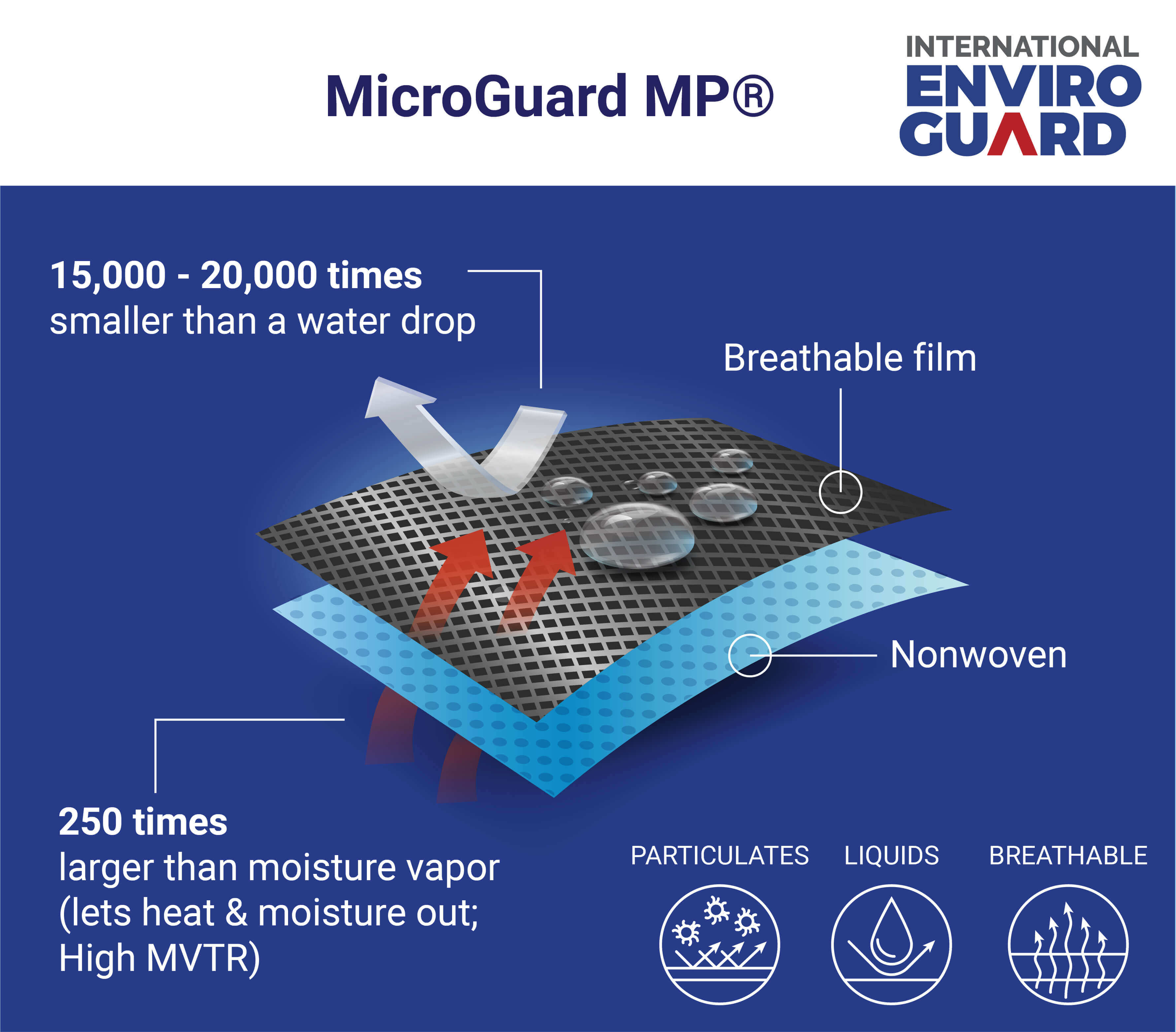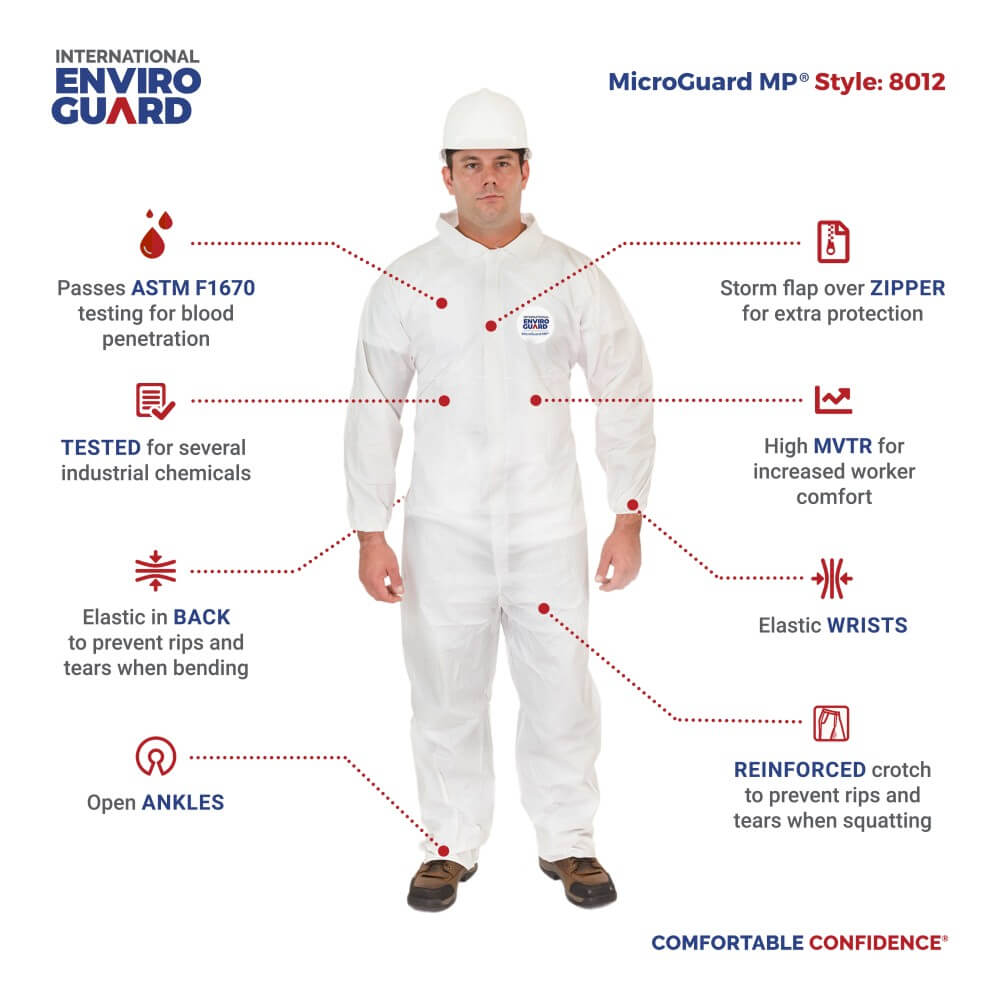 Protecting Cannabis Plants
An additional safety element in the cannabis industry involves protecting the integrity of the plants themselves. Since cannabis products are bound for human consumption, there is often a need for protective clothing to reduce the possibility of contamination that can arise at numerous points during the cultivation, production, processing, extraction, and commercial phases.
In addition to protective garments worn by employees, other accessories such as shoe covers, bouffant caps, face masks, beard restraints, and gloves must also be included in this product-protection approach.
Meeting OSHA's requirements for employee protection while employed within the cannabis industry is vital to the survival of the companies involved. Ensuring that the products they produce meet the requirements for being free of harmful contaminants is also essential.