Tired of Tyvek® Suits? A Terrific Alternative.
Typical disposable coveralls are hot and offer limited breathability.As you put in a hard day's work, you begin to sweat which is uncomfortable in standard, protective coveralls. Body Filter 95+® offers a terrific solution to this problem.
Body Filter 95+® Breathability vs Tyvek® 400
Body Filter 95+® is made of a stronger fabric than that of leading competitors and it helps keep you cool over long hours. This proprietary fabric allows heat and moisture vapor to escape while protecting you from unwanted particulates.
Body Filter 95+® offers our highest level of particulate protection along with protection from light liquid splash. Body Filter 95+® provides 95% to 99% filtration efficiency with particulates as small as 0.3 microns. This superior filtration level is hard to top because it's similar to the efficiency of an N95 respirator.
Body Filter 95+® is often used in paint spray applications to protect against hazardous and noxious particulates and liquids. Body Filter 95+® is also commonly used in working environments where heat stress is concern.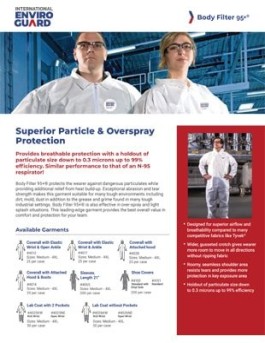 Body Filter 95+®

Body Filter 95+® features a reinforced crotch to reduce risk of rip-outs. Additionally, it has a seamless shoulder area which also reduces the chance of rips in the shoulder area. Combined with an oversized zipper, these coveralls are quick and easy to put on and take off.
Our proprietary line of Breathable Disposable Coveralls provide advanced particle protection along with superior breathability.
Innovative suit design provides additional comfort
Better fabric strength than competitive fabrics
Exceptional abrasion resistance for extended wear
Copyright © 2020 International Enviroguard.