At a food processing plant, maintaining a contamination-free environment can be challenging but it's critical to protecting your consumable products from contaminants such as hair, saliva, dust, and other debris. Workers in the food processing industry need comfortable, disposable PPE to comply with safety protocols and to help prevent cross-contamination. That's where International Enviroguard can help—our disposable, protective clothing provides the comfort and protection needed to safeguard products, workers, and facilities from on-the-job hazards.
Protective Clothing for a Varity of Applications
International Enviroguard provides a wide selection of food processing clothing and accessories to meet your health and safety needs. We have value options like polypropylene, which is ideal for low-risk environments where limited protection is needed. Our line of disposable polypropylene clothing includes bouffant caps, anti-skid shoe covers, lab coats, head and face hoods, coveralls of various protection levels, and beard covers.
For environments where more protection is needed, MicroGuard MP® provides general particle protection along with protection from light liquid splashes and even blood penetration. These garments are designed with soft, non-woven fabric with a microporous film that holds up in more challenging environments. This product line includes breathable disposable coveralls, lightweight lab coats, chemical splash aprons, sleeves, shoe covers, and more options for full body protection.
Whether you work at a food processing plant, the restaurant industry, or catering, our personal protective equipment (PPE) helps prevent cross-contamination. International Enviroguard also offers surface protection, such as sticky mats, that can be used to control the spread of dirt and debris throughout your work site. Our tacky mats are available in a variety of sizes and colors to fit your workplace needs.
SMS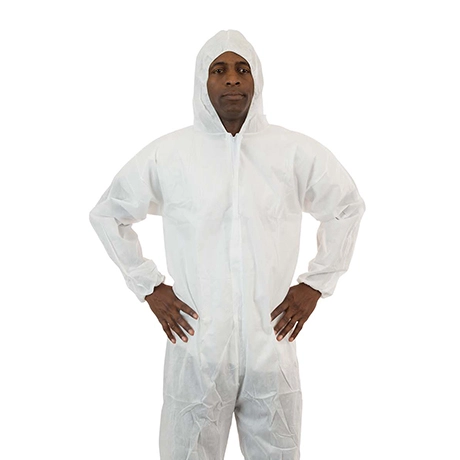 A breathable garment that provides an excellent particulate barrier, along with protection from light splashes and sprays. Good for general cleanup work and for guarding against dirt, dust and grime.
View All Products