Disposable Protective Clothing for Protection from Ebola
In the fall of 2014, the world-wide Ebola crisis erupted creating a focus on the intensive care of the patient and the critical protection of the healthcare worker. During that period, CDC guidance for personal protective equipment (PPE) changed rapidly to incorporate the new learning on Ebola response.
In August 2015, the CDC updated its guidance on PPE to be used by healthcare workers during management of patients with confirmed Ebola or persons under investigation (PUIs) for Ebola who are clinically unstable or have bleeding, vomiting or diarrhea. New learning included working with this type of patient and also working with patients who were still PUIs for Ebola, but were clinically stable and did not have bleeding, vomiting or diarrhea.
Addressing CDC guidance changes with ASTM F1670 / F1671
ViroGuard® 2 is made with a fabric that passed ASTM F1670 (blood) and ASTM F1671 (blood-borne pathogens) testing was suitable for the wearer working with a PUI that was stable and did not have bleeding, vomiting or diarrhea. This is also commonly referred to as a "dry" patient. The additional new PPE guidance for a healthcare worker managing a PUI that was clinically unstable and had bleeding, vomiting diarrhea, referred to as a "wet" patient, should have a garment where both the fabric and the seams must pass ASTM F1670 and ASTM F1671.
Having had experience in meeting healthcare workers' needs for effective protection during the Ebola crisis, International Enviroguard engaged key healthcare teams to solicit their input on a suit design that would not only meet the latest guidelines, but would incorporate key features to help those teams with their donning and doffing procedures.
Protection against blood and bloodborne pathogens
After significant input from pivotal healthcare teams, ViroGuard® 2 was created. Not only does ViroGuard 2 include fabric and seams that pass ASTM F1670 and ASTM F1671, it also incorporates several key features that healthcare workers can utilize to improve safety and ease of use during the donning and doffing process. For more details, click here.
ViroGuard® 2 has become the product of choice for most Regional Ebola and Special Pathogen Treatment Centers (RESPTCs), along with top key assessment facilities.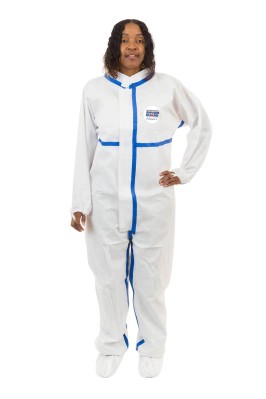 ViroGuard® 2
Disposable coveralls with fabric and seams that have been tested for protection against blood, blood-borne pathogens. Strong, fabric that has excellent abrasion resistance and resists tears. Latex-free elastic wrists & ankles. Thumb & finger loops at cuff. Zipper front with sealable storm flap. Double-sided tape at wrists for glove adhesion. Mandarin collar with velcro closure at neck. Red fabric pull tab on zipper. Taped seams for an additional layer of protection. Recommended applications include emergency response, healthcare, category 3 black water, crime scene remediation and animal research.
Impermeable fabric and seams pass ASTM F1670 & F1671 tests for protection against blood, bodily fluids and blood borne pathogens
Double-sided tape around wrists helps keeps gloves in place during donning
Thumb and middle finger loops keep sleeves in place
Storm flap over zipper adds an extra layer of protection
Roomy one-piece raglan sleeves resist tears around shoulders
Read more
View All Products