Does Ebola Still Exist?
The short answer is yes. In areas such as the Democratic Republic of Congo (DRC), Ebola virus outbreaks continue to resurge. In fact, the DRC experienced its eleventh Ebola outbreak as recent as June 2020, and 2021 data from the World Health Organization shows the DRC continues to have ongoing cases. The African country, Guinea, is also experiencing Ebola cases in 2021.
Despite vaccines and curative treatments, this often-fatal virus continues to spread. The virus is transmitted to humans from wild animals, like fruit bats and primates, after contact with blood and bodily fluids. Wildlife-to-human transmission occurs from the consumption of raw meat or blood that has not been thoroughly cooked. Human-to-human transmission occurs through direct contact with bodily fluids and secretions from infected individuals (deceased or alive), contaminated surfaces, and contaminated materials such as bedding or clothing.
Are there still cases of Ebola in America?
As of February 2021, there are no current Ebola cases in America. The CDC reports that eleven individuals were treated for Ebola in the United States during the 2014-2016 West African epidemic1. The majority of these infected individuals were medical workers who contracted the virus while providing aid in West Africa during the epidemic. Others were infected after treating individuals who contracted the virus in Africa and returned to the United States for treatment.
According to the Infectious Disease Society of America (ISDA), only two health care workers actually contracted the virus in the United States after treating an infected patient who returned from Liberia3. In short, only two individuals have ever contracted Ebola on American soil, with both recovering. There have only been two Ebola virus deaths in the US—the patient who returned from Libera and a patient who returned to the US from Sierra Leone.
What type of PPE is used for Ebola?
According to the CDC, PPE that covers the clothing and skin (such as coveralls or protective suits), must completely protect mucous membranes when treating patients with confirmed Ebola. The CDC also recommends respiratory protection against potentially infectious aerosols that can be generated from procedures such as a bronchoscopy or endotracheal intubation2. Recommended respiratory protection includes the use of a NIOSH-certified fit-tested N-95 or higher respirator, or a PAPR. In addition to respirators, more standard PPE such as surgical scrubs or disposable garments are recommended to help prevent the contamination of personal clothing.
Disposable gloves with extended cuffs, disposable boot covers, and disposable shoe covers, and aprons may also be worn over top of coveralls or combined with a coverall for added protection. More importantly, gowns or coveralls must be impermeable and fluid resistant to synthetic blood and simulated bloodborne pathogens.
CDC-recommended PPE includes:
A disposable, impermeable gown or coverall
Respiratory protection: a PAPR or an N95 Respirator (or higher) combined with a disposable hood that fully covers the neck and extends to the shoulders
Disposable gloves: two pairs are recommended to help prevent self-contamination during donning and doffing
Disposable boot covers or shoe covers: shoe covers must be worn with a coverall
Disposable apron: provides additional protection and reduces the contamination of coveralls or gowns from bodily fluids
Addressing CDC guidance changes with ASTM F1670 / F1671
ViroGuard® PPE is designed with fabric that passes ASTM F1670 (blood) and ASTM F1671 (blood-borne pathogens) testing, suitable for the wearers with a PUI that is stable and does not have bleeding, vomiting, or diarrhea. This is also commonly referred to as a "dry" patient. The additional new PPE guidance for a healthcare worker managing a PUI who is clinically unstable and has bleeding, vomiting diarrhea—referred to as a "wet" patient— suggests the use of an infectious disease suit where both the fabric and the seams pass ASTM F1670 and ASTM F1671.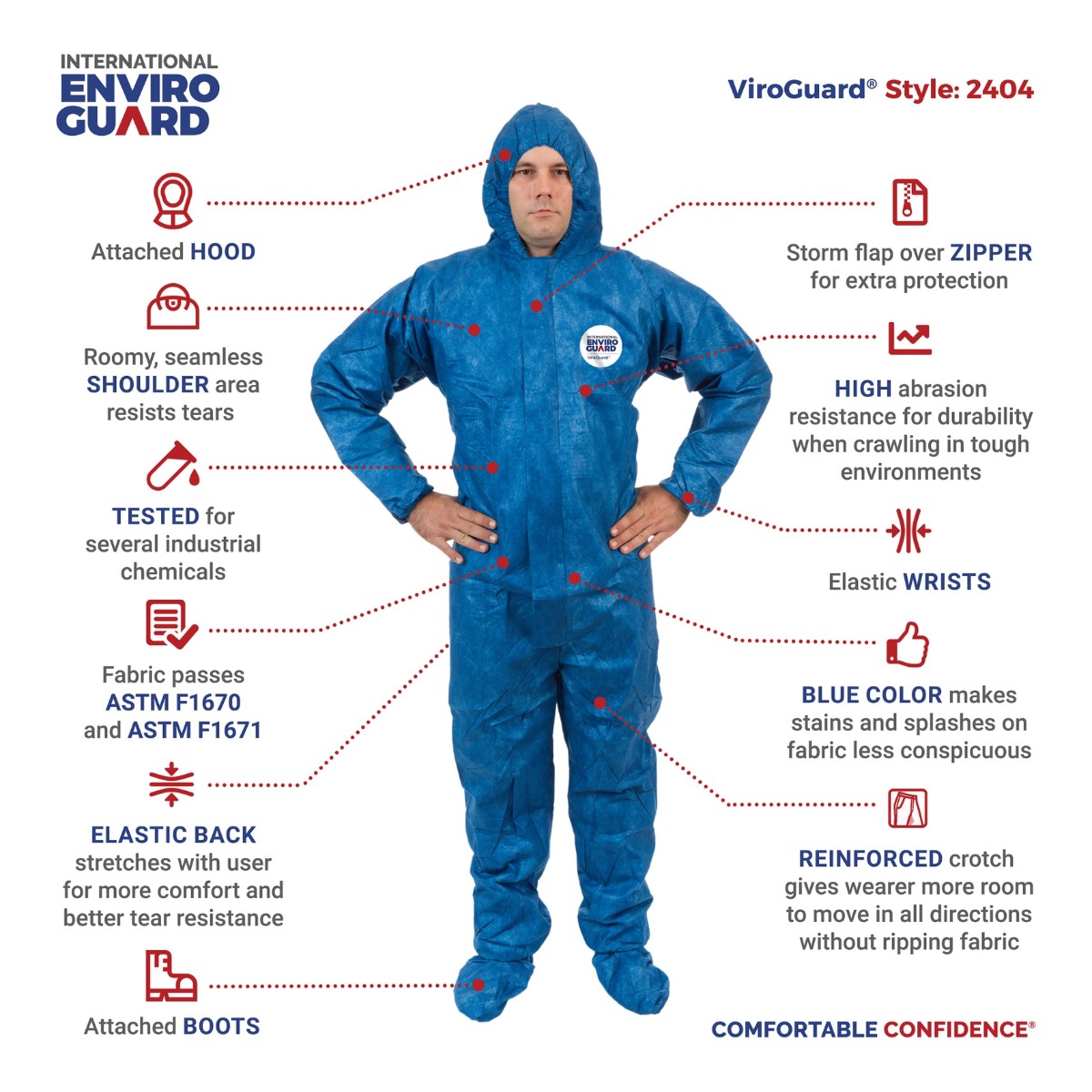 View all ViroGuard® Bio Suit Styles
The Ideal Coverall for Protection against Blood, Bloodborne Pathogens, & Highly Infectious Diseases
With experience in meeting healthcare workers' needs for effective protection during the Ebola crisis, International Enviroguard engaged key healthcare teams to solicit their input on a suit design that would not only meet the latest guidelines but would incorporate key features to help those teams with their donning and doffing procedures.
After significant input from pivotal healthcare teams, ViroGuard® 2 was created. Not only does ViroGuard 2® include fabric and seams that pass ASTM F1670 and ASTM F1671, it also incorporates several key features that health care workers can utilize to improve safety and ease of use during the donning and doffing process. ViroGuard® 2 suits have become the product of choice for most Regional Ebola and Special Pathogen Treatment Centers (RESPTCs), along with top key assessment facilities. Possible applications also include working with highly contagious infectious diseases (HCID) and more extreme viruses.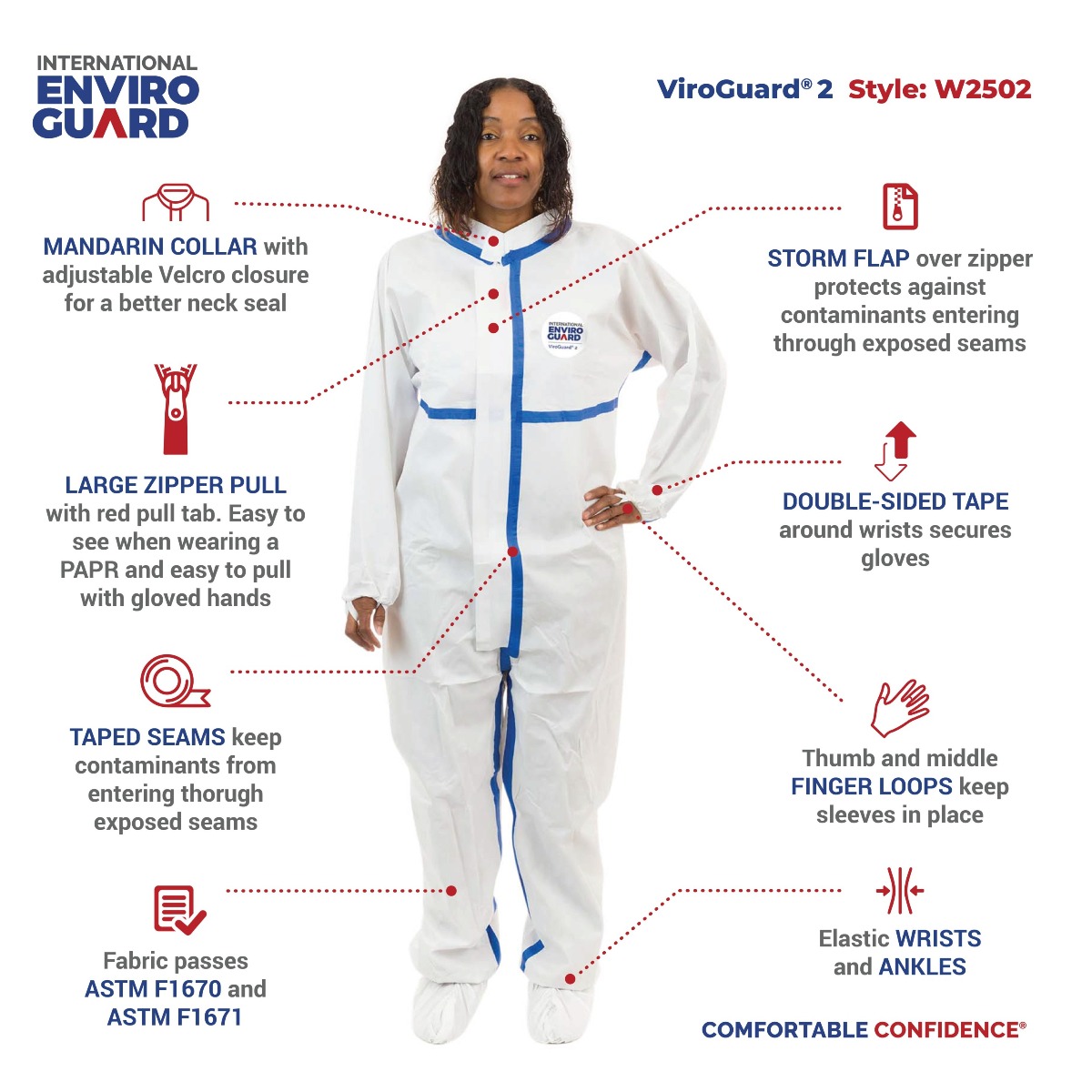 View all ViroGuard® 2 Disposable PPE and Accessories
View all PPE for biohazards including disposable SMS Soft Scrubs™, full body suits, and accessories below:
References:
Center for Disease Control (CDC): https://www.cdc.gov/vhf/ebola/history/2014-2016-outbreak/
Center for Disease Control (CDC): https://www.cdc.gov/vhf/ebola/healthcare-us/ppe/guidance.html
Infectious Disease Society of America (ISDA): https://www.idsociety.org/public-health/ebola/ebola-resources/ebola-facts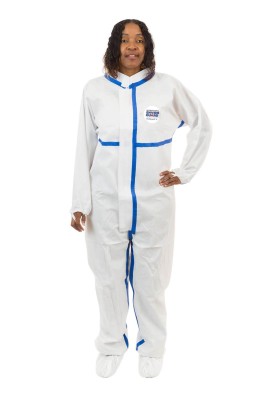 ViroGuard® 2
Disposable coveralls with fabric and seams that have been tested for protection against blood, blood-borne pathogens. Strong, fabric that has excellent abrasion resistance and resists tears. Latex-free elastic wrists & ankles. Thumb & finger loops at cuff. Zipper front with sealable storm flap. Double-sided tape at wrists for glove adhesion. Mandarin collar with velcro closure at neck. Red fabric pull tab on zipper. Taped seams for an additional layer of protection. Recommended applications include emergency response, healthcare, category 3 black water, crime scene remediation and animal research.
Impermeable fabric and seams pass ASTM F1670 & F1671 tests for protection against blood, bodily fluids and blood borne pathogens
Double-sided tape around wrists helps keeps gloves in place during donning
Thumb and middle finger loops keep sleeves in place
Storm flap over zipper adds an extra layer of protection
Roomy one-piece raglan sleeves resist tears around shoulders
Read more
View All Products