Protect Your Workers Through Environmental Clean Ups
When disaster hits, the aftermath is often hazardous to the people called upon to clean up the pollutants and contaminants in the environment. Events such as hurricanes, tornadoes, oil spills, forest fires, earthquakes, and toxic mold growth require remediation PPE that can protect against heavy duty chemicals and the surrounding contaminants.
Fit and Quality that Protects Your People and Budget
Having effective, disposable PPE not only helps provide respiratory protection, but it also helps prevent skin contact with pollutants that can affect workers short- and long-term health. Cheap, disposable protective garments that do not meet ANSI sizing requirements can rip while people work in them. When a protective garment restricts movement, it's easier to tear when crawling, stretching, reaching, or climbing. This ends up using more garments and increasing your total cost. Our products are made to ANSI size standards and are designed for greater mobility and tear-resistance to ensure a better fit, protection, and value.
Comfortable Protection from Chemicals and Dangerous Particulates
For both manmade and natural disasters, our products have been trusted for years to withstand projects big and small. Even the messiest cleanups don't stand a chance against our lineup of remediation PPE. The combination of expert design, innovative materials, and convenient features work together to protect workers from numerous toxic chemicals, liquids, molds, and particulates, in addition to routine dirt and grime.
ViroGuard®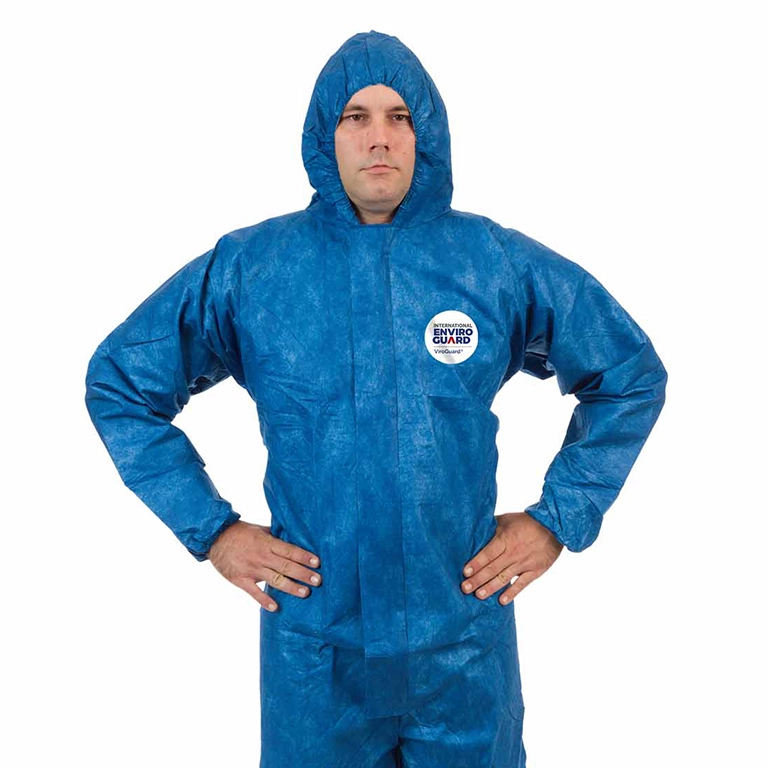 ViroGuard® protective apparel offers superior comfort and performance in a disposable product.
Enhanced moisture vapor transmission keeps workers comfortable and protected.
Seamless shoulder area provides significantly more room, allowing workers to freely move their arms and shoulders without ripping or tearing.
Elastic back stretches with the user for more comfort and better tear resistance. No need to purchase a larger size just to have more fabric in the back.
Gusseted, reinforced crotch provides more room to move in all directions without ripping or tearing.
Blue fabric makes stains and splashes on fabric less conspicuous.
ViroGuard® fabric passes ASTM F1670 and F1671 tests for protection against blood, bodily fluids and bloodborne pathogens.
Range of options available in coverall and lab-coat styles.
Read more
View All Products
ViroGuard® 2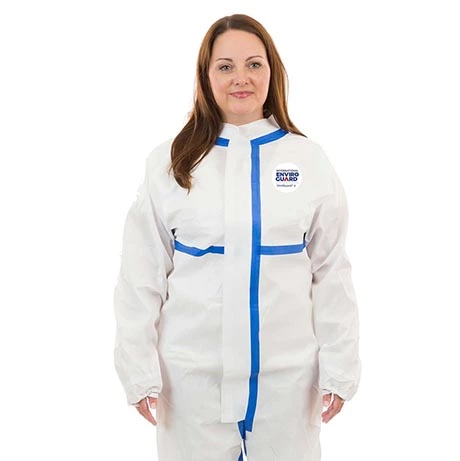 Enjoy impermeable protection with fabric and seams that pass ASTM F1670 (blood) and ASTM F1671 (blood-borne pathogens). Designed to meet the latest CDC standards for those working with PUIs who are clinically unstable or have bleeding, vomiting or diarrhea. Because of its unique design and protection factor, ViroGuard® 2 is the product of choice for most of the Regional Ebola and Special Pathogen Treatment Centers along with top key assessment facilities.
Impermeable fabric and seams pass ASTM F1670 & F1671 tests for protection against blood, bodily fluids and blood-borne pathogens.
Adjustable Mandarin collar with Velcro closure creates a better neck seal for each wearer.
Double-sided tape around wrists keeps gloves in place during donning and doffing.
Zipper front with a sealable storm flap that has a starter tab for the sealing tape. Starter tab makes it much easier for a gloved hand to pull and expose the tape for sealing the storm flap.
Large zipper pull with red fabric pull tab. Makes it easier for the wearer to see and use the pull with gloved hands and wearing a PAPR.
Thumb and finger loops work to prevent sleeves from riding up and exposing skin.
Roomy one-piece raglan sleeves provide for increased arm and shoulder movement while resisting tears.
Visible sizing tag helps materials management teams identify size easily without unfolding each suit.
Read more
View All Products