Refinery turnarounds, whether planned or unplanned, take up valuable time that could be spent refining oil, gas, or chemicals. In planned turnarounds, you may have upwards of 1,500 workers and 60 days of refinery turnaround time. In unplanned turnarounds, the response is to a serious problem that could take weeks, or even months to remedy.
Whether unplanned or scheduled, refinery turnarounds are a stressful time for workers at refineries. Schedules are tight and even the best planned turnarounds often have unforeseen hazards. That's why it's important for every worker to have updated PPE or personal protection equipment to ensure their safety.
Hazards During Refinery Turnarounds
Refineries are hazardous environments and they're challenging environments even for the best workers who prioritize risk mitigation. Hazard assessment and risk mitigation tops the safety officer's list when it comes to workers. That's why when turnarounds occur, whether planned maintenance or unplanned, a normally hazardous environment becomes even more so, given the scope of the maintenance, repairs, and work performed.
Turnarounds are often the most dangerous times at refineries due to the non-routine activities taking place. Even the best workers may not know or understand the proper procedures when dealing with new equipment, which can lead to accidents that can injure or even kill workers. While it is imperative to have your employees learn and understand all safety regulations and procedures, it is just as vitally important for them to have disposable protective clothing as well. Accidents happen when the human element is involved and it is up to you, whether you are a factory worker, a manager, or a safety professional, to ensure that everyone has the right protective equipment for the job.
Hazards during refinery turnarounds include:
Heavy machinery collisions
Improper storage of dangerous materials
Exposure to toxic chemicals
Equipment collapse due to damage or defect
Electrical shock and fire from malfunctioning equipment
Each of these hazards can injure and even kill workers. PPE can help reduce or eliminate injuries and death due to these hazards and potential accidents.
OSHA and Government Regulations
OSHA, or the Occupational Safety and Health Administration, requires employers to ensure the safety of their employees using process safety management (PSM). Part of PSM requires that refineries provide protective clothing that meets OSHA standards. Refineries must limit the hazards during turnarounds, but accidents can and do happen. When dealing with the human factor, it's hard to prevent every accident, which is why PPE is so important. Disposable protective clothing can protect your workers from:
Burns due to fires
Chemical burns
Exposure to toxic substances
Chemical splashes
Dirt and grime
Toxic inhalation
Exposure to contaminants
The refinery is required by law to perform a hazard assessment and provide appropriate PPE for workers.  Furthermore, refineries are required to train their employees as to the proper use of their personal protection equipment.  Here are some things refineries must do to abide by OSHA's laws:
Perform a work environment hazard assessment
Identify workplace hazards and eliminate or minimize them
Provide the appropriate personal protection equipment and train all employees and contractors how to use the PPE
Create, administer, review, and update company regulations and programs concerning the use of PPE.
Keep the PPE in good condition and replace when necessary
How International EnviroGuard Can Help Your Refinery Reduce Worker Hazards
Even the best planned turnarounds have unforeseen dangers. That's why you can reduce and mitigate refinery hazards using International EnviroGuard's PPE and disposable FR. We offer PPE that protects your workers from chemical splashes, flames, and particulates. Our disposable PPE are made from the highest quality materials and meet or exceed the standards set forth by many regulatory agencies.
For chemical hazards, we offer:
ChemSplash® 1 - Protects your workers from chemical splashes with a breathable, chemical barrier in accordance with ISO 6350 and EN 368 standards.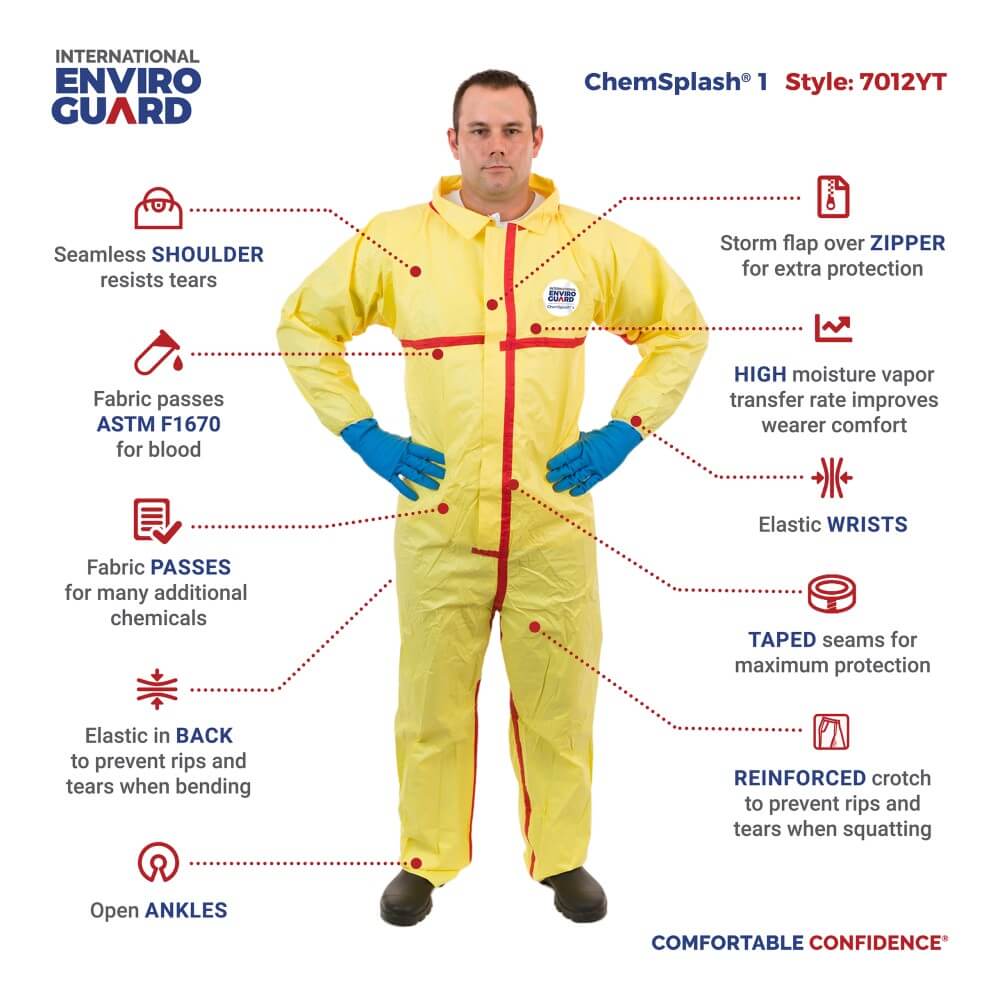 ChemSplash® 2 - A tougher PPE that protects your workers against strong caustics and acids.  More maneuverable than similar competitor products.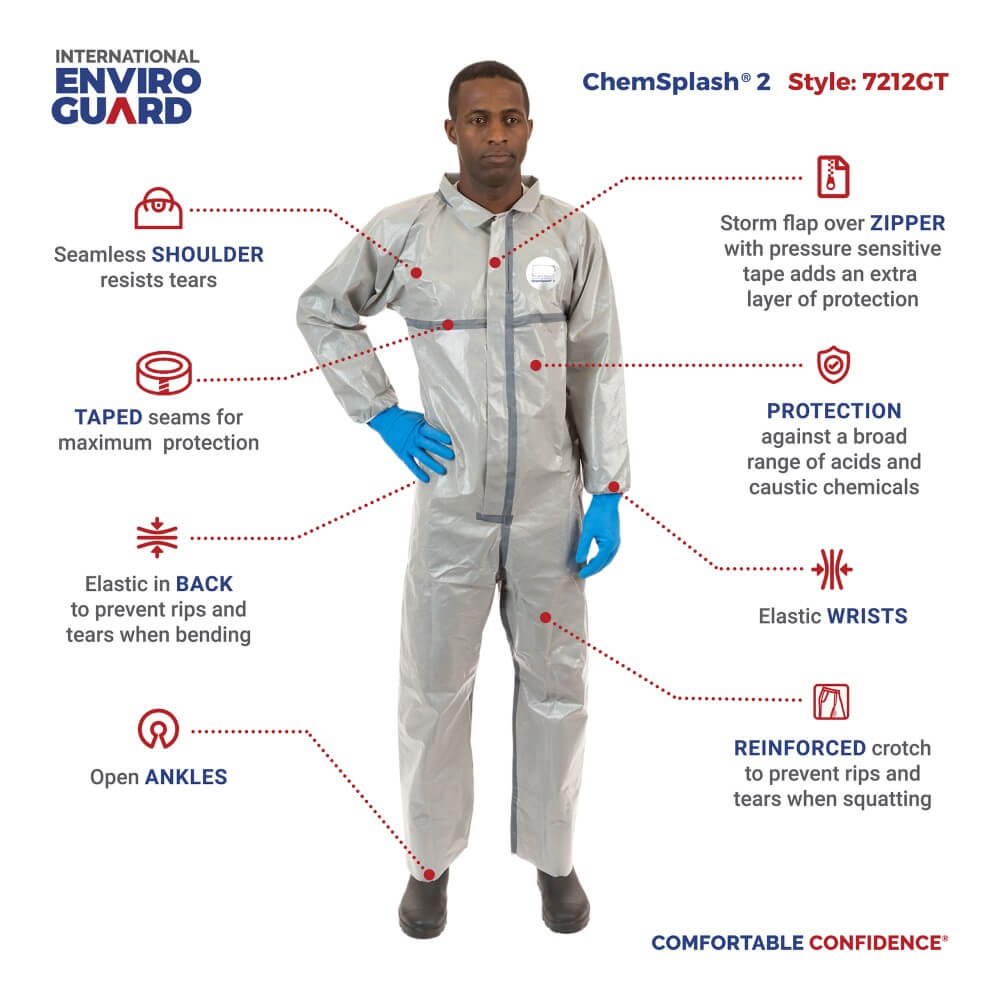 For flame hazards, we offer:
PyroGuard FR® - Protects workers from flames in accordance with NFPA 2113 requirements for section 5.1.9 and passes the ASTM D6413 vertical flame test.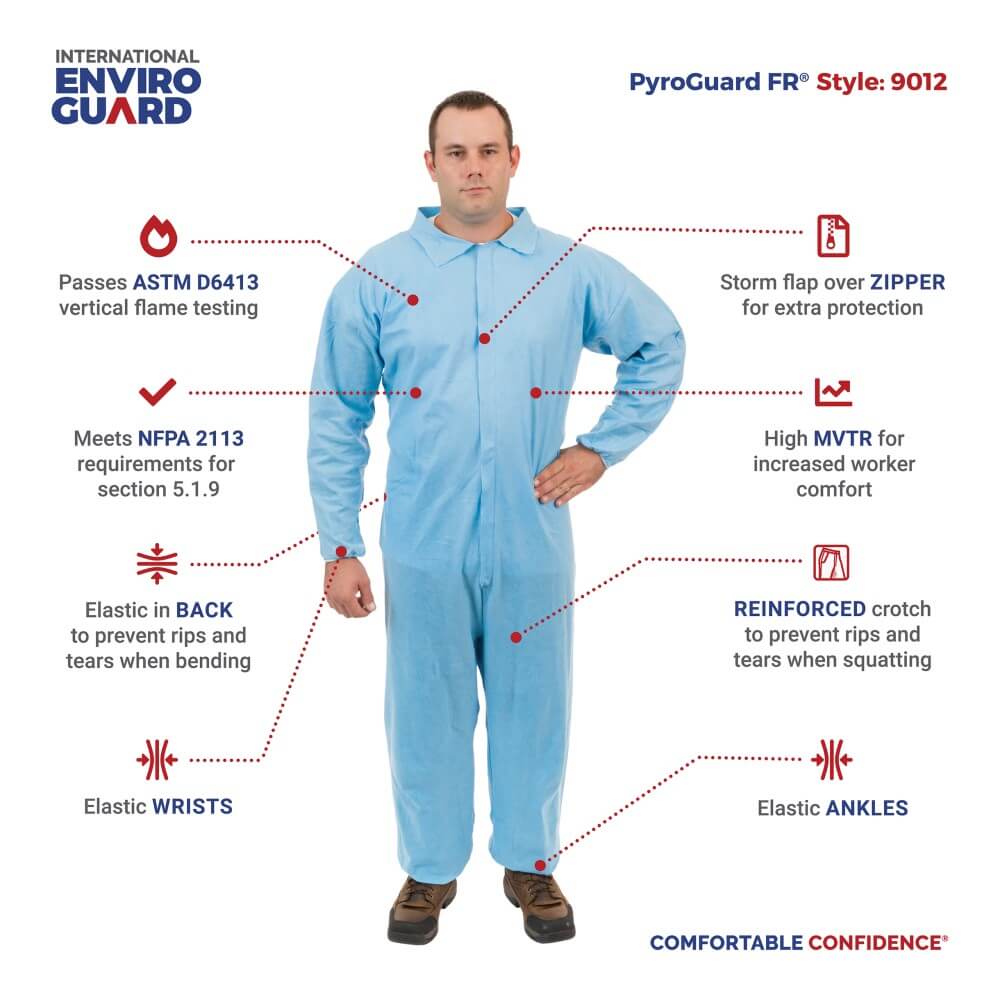 PyroGuard CRFR™ - Protects your workers from chemical splashes and is flame retardant in accordance with NFPA 2113 for flash fires.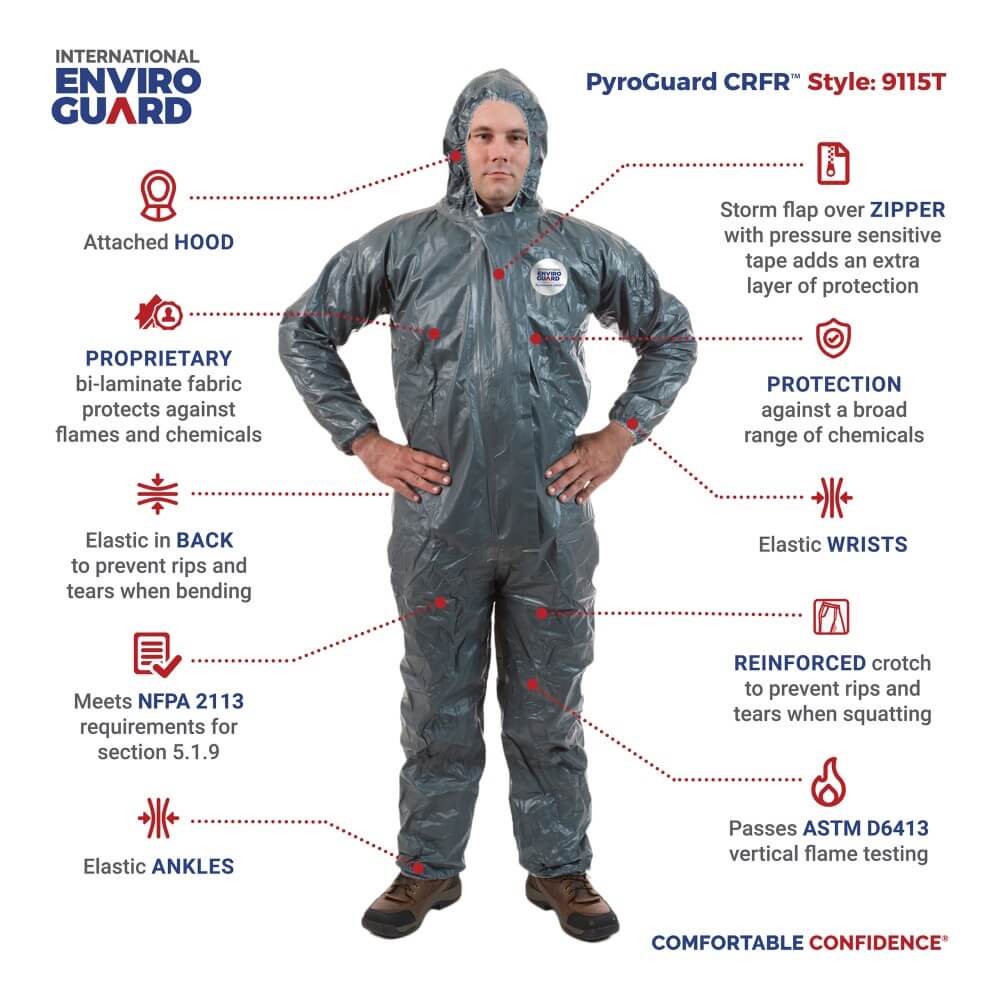 For dirt and grime hazards, we offer:
MicroGuard MP® - Protects from dirt, grime, and liquids, plus it helps prevent possible contamination of products. The breathable fabric and high tear resistance make this apparel a great Tyvek® alternative.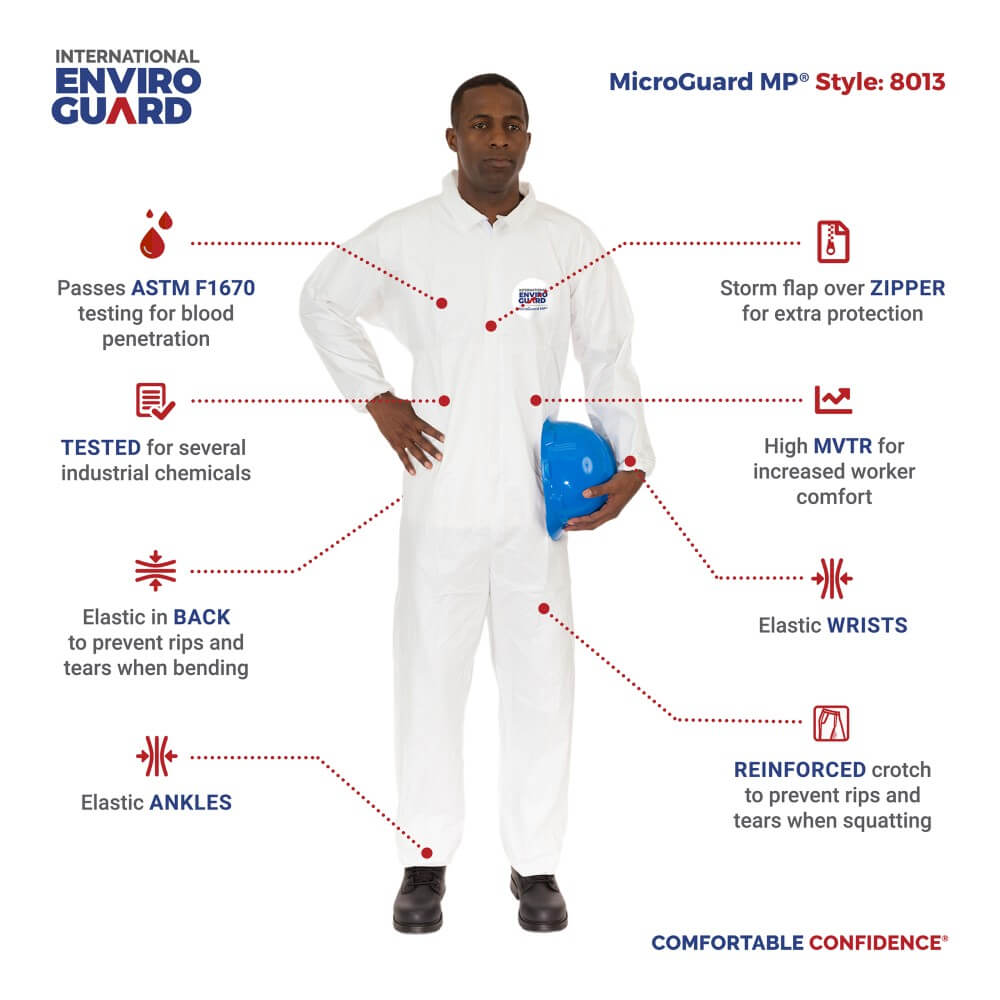 SMS - Protects against dirt, grime, and light splashes and sprays. This PPE offers a breathable particulate barrier for all-day comfort.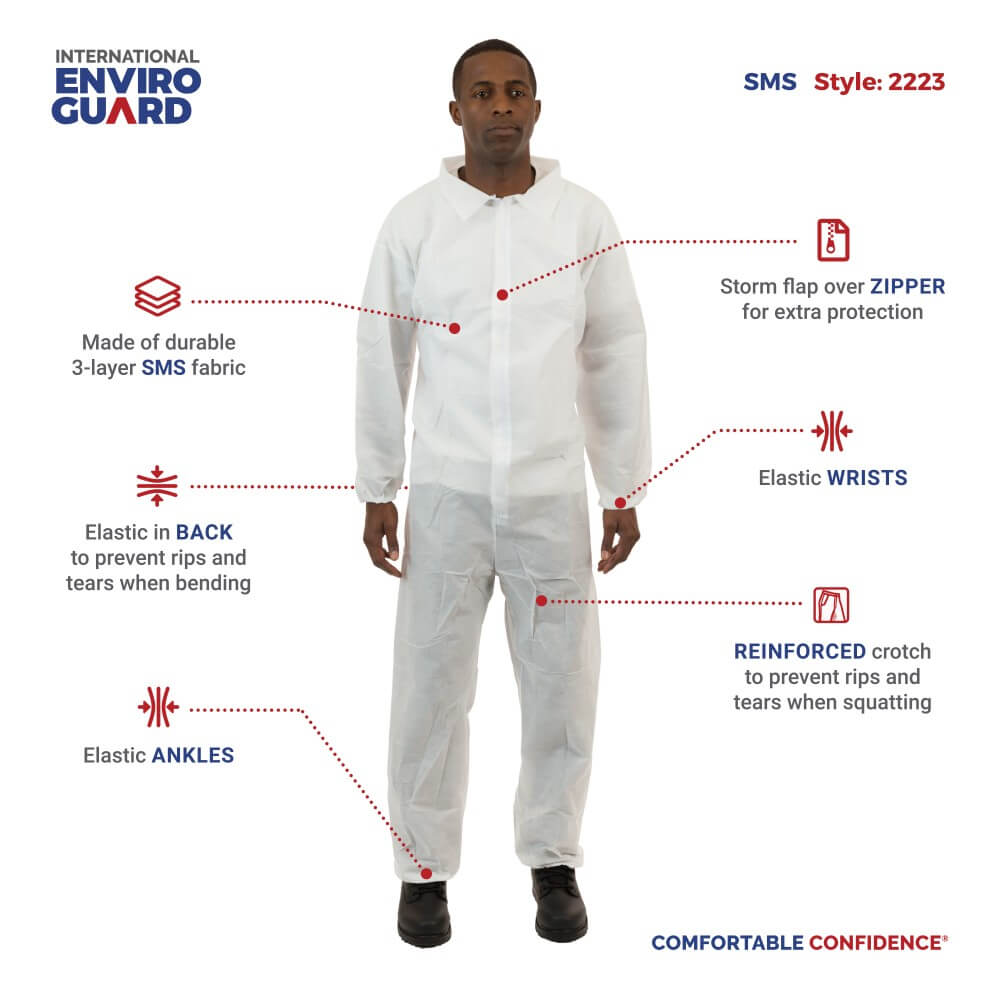 Get prepared for a turnaround:

International Enviroguard also carries a full line of PPE that includes disposable fire-resistant workwear, chemical resistant apparel, scrubs, blood-resistant PPE, and other protective clothing and accessories.
Protect Your Most Important Assets: Your People
We take safety seriously, and we know you do too. When it comes to hazards, whether during turnaround or normal operations, we're there to help you equip your people with the very best in disposable PPE. Don't take chances and risk injuries or violate OSHA laws, which can be very expensive and damaging to your business. Whether you're looking for fully body protective suits, shoe covers, face shields, and more, we have you covered.
Contact us today and we can help you protect your employees and keep your refinery going at peak operation with all your personnel. If you're unsure of what you need, we can help with that too. Try our Suit Yourself® tool to see what disposable PPE meets your work application and protective needs.