Chemical protective suits are required in many service and manufacturing industries where employees are exposed to hazardous materials. Chemical protective clothing can make a real difference in protecting workers from hazardous particles, dust, aerosols, and liquids in the agricultural sector when pesticides are sprayed, during structural renovations where mold or asbestos is present, during the manufacture of light bulbs, electronics, and many other consumer products, and of course in chemical facilities, hospitals, pharmaceuticals manufacturing, and especially in the petrochemical industry.
It can be difficult to choose the best coverall for the job. Over-protection means paying more than what's necessary to protect workers, and under-protection can leave an employee with an unexpected injury and your business with a possible liability claim. Additionally, you will want to choose a chemical protection suit that doesn't leave workers exposed to heat stress and provides a full range of motion for productivity and overall efficiency.
1. Know the Level of Exposure for Your Chemical Resistant Suit
It is important to first know what type of chemicals workers may be exposed to along with the concentration levels to determine the type of chemical coverall required. Some chemicals have just one hazard, such as being a suspected carcinogen. But more often, workplace chemicals can pose multiple safety hazards including skin or mucous membrane irritation, sensitization (as with an allergic reaction), or a physical hazard such as skin burns, or being flammable or corrosive. OSHA outlines the 4 levels of personal protection equipment or PPE that can be used to determine.
which type of chemical protection suit is needed to fit the exposure risks.
Level A protection: This is when a high level of respiratory, skin, eye, and mucous membrane protection is needed. A fully encapsulated chemical coverall and a positive pressure or self-contained breathing apparatus (SCBA) is used to fully protect the worker from a high level of hazardous exposure or permeation.
Level B protection: When respiratory hazards are certain, but less skin and eye protection is needed, Level B garments should be worn. Chemical resistant clothing is needed when the amount or type of chemicals are unknown, as Level B will provide sufficient protection for the time required to determine the true hazard levels. For added safety, workers can also wear chemical resistant pants or a chemical resistant jacket.
Level C protection includes chemical resistant coveralls or a chem suit when the type and concentration levels of the chemical hazard are known. A full or half mask along with appropriate chemical resistant gloves to fit the situation is required.
Level D protective clothing is the lowest level when nuisance contaminants are in the environment, but there are no skin or breathing hazards. A work uniform or disposable coveralls to keep dust, dirt, grease, or oils off workers is one example.
OSHA has established these guidelines in conjunction with data for Permissible Exposure Limits (PEL) to protect workers against the health effects of exposure to hazardous substances. When purchasing a chemical coverall, many manufacturers will label them with the OSHA Hazmat designated Level A through Level D of protection that the coverall will provide.
2. Chemical Coverall Types and Classifications
Another way to determine if the chem suit will meet your employee's exposure level is to consider the CE marking or chemical suit type classification included on the PPE label. The six classes (1-6) start with a basic level Type 6 protective garment, which is used in Level D circumstances where nuisance dust and dirt are present. Chemical resistant coveralls are a Type 6 garment that can be paired with gloves and safety shoes to enhance worker safety.
A fully encapsulated chemical coverall for Level A hazards would be classified as a Type 1 chem suit. The manufacturer should provide a chemical resistance list and a list of the tests passed for the design and style of the coverall in question. By far, the most widely used chem suits for manufacturing processes and industrial hazardous services are typically a Level 3 or a Level 4 chemical coverall.
Both Level 3 and Level 4 coverall levels protect against liquid chemicals and have either liquid-tight (Type 3) or spray-tight (Type 4) seams and joints. A Type 3 chem suit is reusable and is usually manufactured from layered PVC and fabric substrate materials. It is impervious to liquids and offers protection against low concentration levels of acids. A Type 4 coverall is also reusable and offers protection against petroleum, dyes, machine oils, and crude oil.
3. Styles of Chemical Protection Suits
The style of a coverall chosen will also depend on the level of protection needed, and the hazards associated with the chemicals in the worker's environment. While the material is crucial to the level of protection the worker needs, the coverall style will fulfill the amount of coverage and closure required. Work with a manufacturer that offers several styles of chemical coveralls with different closure types, ankle and arm cuff styles, and multiple seam selections.
Totally-encapsulating chemical-protective suit is used for Level A exposure and will provide full body protection. These outfits are generally used with a full face Self-Contained Breathing Apparatus (SCBA), along with inner chemical resistant gloves, safety boots, and a two-way radio to maintain communications to protect against solid hazardous substances such as mold and asbestos cleanup.
Hooded chemical-resistant suits are used for Level A or B exposure risks in conjunction with an air respirator or SCBA for respiratory protection. Expect excellent liquid splash protection from hazardous chemicals that workers may come in contact with during industrial cleanup operations or environmental chemical spills.
One or two-piece chemical-splash suits are an economical choice in chemical protective clothing that prevent chemical splash contact and are used for Level C protection when all contaminants have been identified.
Chemical Resistant Coveralls provide a basic barrier against light liquid splashes and prevents hazardous dust from contaminating the worker's clothing. Chemical resistant coveralls are often used in spray painting, auto mechanics, or metal polishing industries. For added safety, these coveralls can be worn on top of primary protective clothing to extend the life or wear time of underlying garments.
4. The Difference Between Permeation vs. Penetration
Another way to determine the effectiveness of a chemical suit is to look at the what the suits permeation or penetration tests reveal. When a chemical protective garment has passed the tests for penetration, that means the suit was effective at preventing chemicals from penetrating openings in the suit. If chemicals are found to have penetrated through the suit's seams, closures, or fabric - then the suit design is defective. Suits should always be chosen with worker safety in mind, particularly for the specific workplace environment and applications.
Permeation tests will evaluate whether chemicals can pass through a protective garment without going through design or fabric openings. If a chemical can be absorbed or diffused into the fabric and is found on the opposite side of the material, it has failed the permeation tests. It is important to know that even when all openings in the chemical suit are providing full protection from liquid passage, some strong chemicals (such as corrosives) may be able to permeate through the suit's material.
For most workplace activities, a PPE garment that has passed penetration tests is suitable when minimal contact with the chemicals is expected. In extreme levels of chemical concentrations, a chemical suit that has also passed permeation tests may be required for worker safety. If a chemical suit is marketed as a breathable fabric to reduce heat stress for employees, they may not be suitable for the severe conditions that require a non-permeable fabric.
5. Chemical Protective Clothing Test Results
If you need chem suits to protect against industrial chemicals, caustics, and acids, it is important to know that they were manufactured with a strong fabric and seam strength that workers need for enhanced mobility with less rip outs or tears. Both the strength of the fabric and the seams will determine the level of performance in protecting against liquid splash.
For Level A or Level B protection, make sure the chemical suits meet the ISO 6530 test method for resistance of the materials against penetration by liquids. Chemical coveralls that adhere to ISO 6530 have been tested and determined to have met the standards for penetration, repellency, and absorption for protective clothing materials against liquid chemicals.
When you select a quality manufacturer, these coveralls usually feature a laminated fabric which offers a broad range of protection against light splash in petrochemical environments, chemical materials loading operations, and for industrial workers that operate paint booths or chemical mixing equipment. Other ISO 7530/EN 368 tests the chem suit should pass include:
Tensile, Bursting, and Puncture Tests
Penetration Tests against Multiple Agents
Anti-static and Flammability Tests
Whole Suit Spray Tests
These tests ensure the coveralls will protect against light spray and splashes of liquid chemicals. The NFPA governs protective chemical suits that are needed to safeguard against directional spray or buildup of liquid on the coverall, as is the case when firefighters respond to a chemical factory explosion or DOT chemical spill on the highways.
Finally, check the selected coverall's data sheets to make sure it provides resistance to the chemicals your workers are exposed to, as detailed on the chemical resistance list. Usually, the concentrations under test conditions are greater than those that will be found in the workplace.
6. How Much Does a Real Hazmat Suit Cost?
Pricing for hazmat suits and totally-encapsulating chemical-protective suits have a wide range, depending on the protection level needed. For example, a Level D coverall will be much less expensive than a Level A or B suit that requires more specialized testing, materials, and assembly. Level D coveralls can cost as low as a few dollars per suit, whereas Level A coveralls can cost up to $100+ per suit—with some Level A suits exceeding a $1,000 per suit price tag. Even the price per suit size can vary, with larger sized coveralls (XL, 2XL, 3XL, etc.) costing more that smaller sized suits (S, M, L). However, it goes without saying that you can't put a price on safety.
7. International Enviroguard's Chem Suits
International Enviroguard's chemical coverall lines, ChemSplash® 1 and ChemSplash® 2, offer styles with or without an attached hood and boots, as well as with or without taped seams. All of our chemical coveralls are designed with a storm flap over the zipper to help prevent chemical penetration through exposed seams. Better yet, all coveralls also have seamless shoulder areas and reinforced crotch areas to resist tears and/or rip outs and to provide enhanced mobility.
Pictured below, our ChemSplash® 2 coverall (style 7219GT) provides full body protection with taped seams, a storm flap over the zipper, and an attached hood and boots. All ChemSplash® 2 coveralls are designed with a proprietary, multi-layer film that protects against a broad range of acids and caustic chemicals. This heavy-duty chemical splash coverall line is recommended for applications such as emergency response, chemical loading, petrochemical environments, mold / asbestos remediation, and more.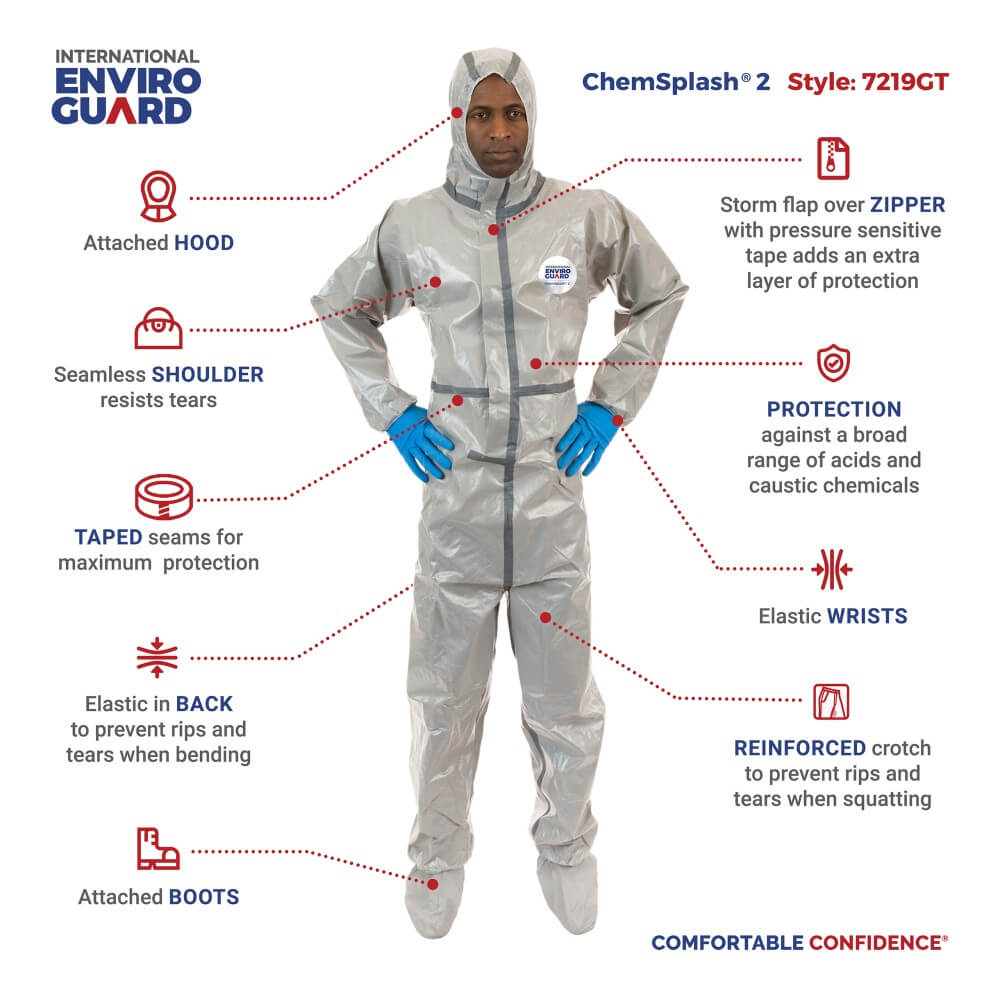 Our ChemSplash® 1 chemical coveralls (style 7019YT) provide full body protection against chemical splash and toxic particles. Proprietary, laminated and nonwoven fabric helps wearer's stay cool by allowing heat and moisture vapor to escape without compromising safety. What's more, it passes critical tests for chemical penetration, flammability, puncture (cross direction), bursting strength (machine direction), antistatic, and more. We offer varying styles with varying levels of protection including with or without taped seams, elastic wrists and/or ankles, and with or without an attached hood and boots.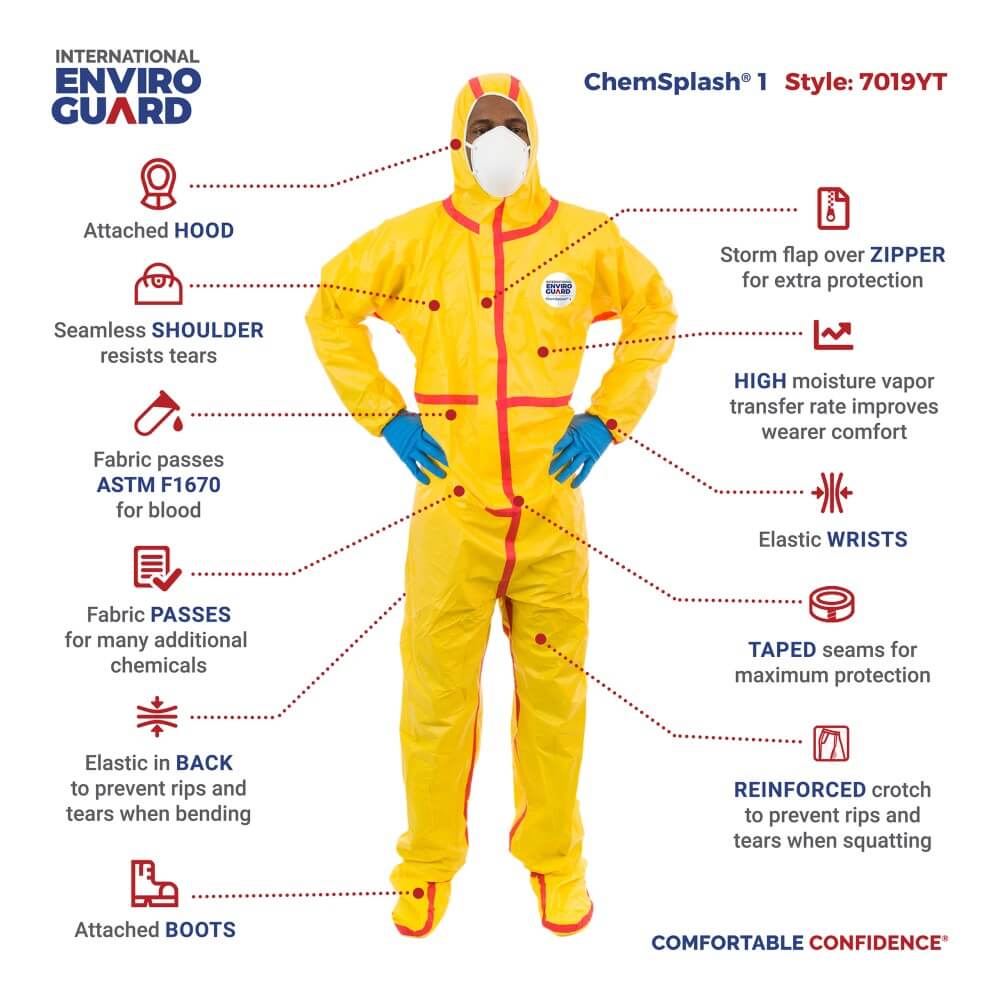 For more basic protection against chemical splash, ChemSplash® 1 coveralls provide the mobility and safety needed to work in environments such as manufacturing, emergency response, environmental cleanup, and more. All ChemSplash® 1 coveralls offer splash protection against light-duty chemicals, acids, and hazardous particles. Pictured below, style 7012YS is a great option for less hazardous environments where chemical agents are known.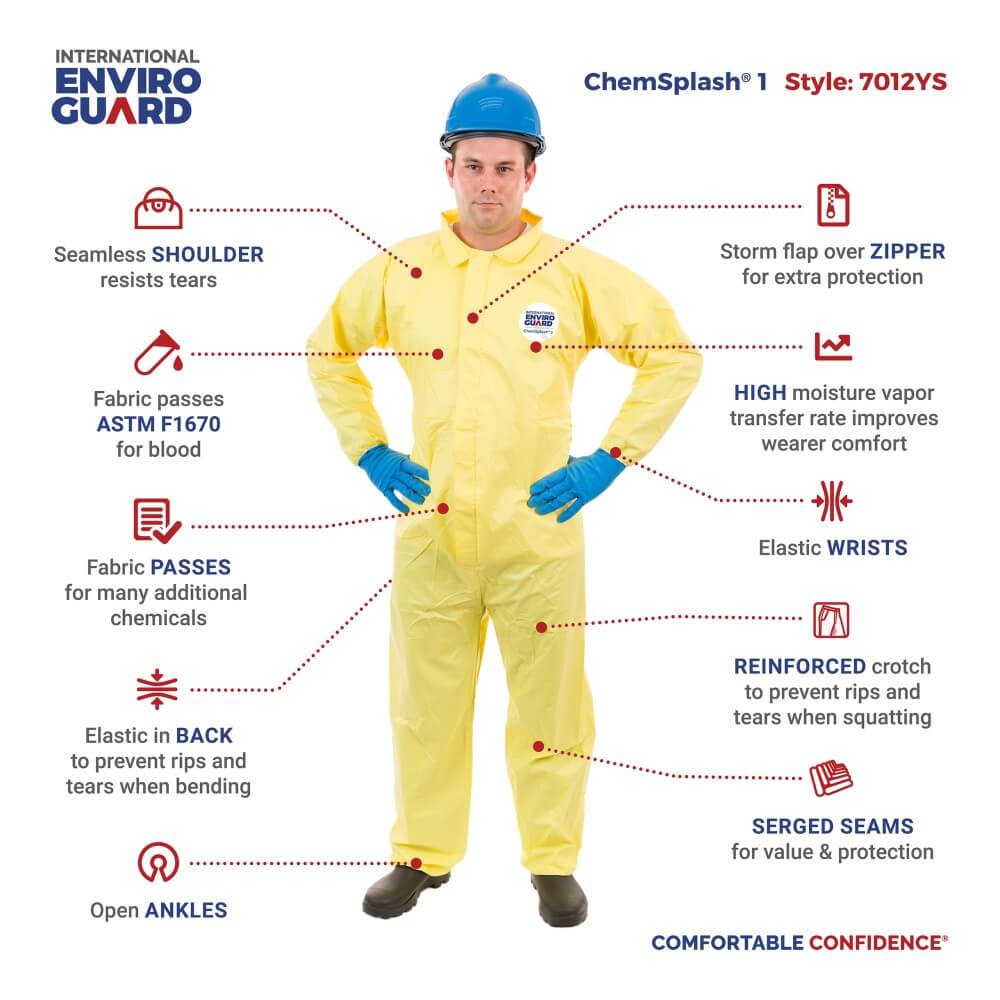 View all our Chemical-Resistant Coveralls or request a sample

Visit us at International Enviroguard to explore our large selection of chemical resistant suits and coveralls. All of our chemical protective clothing passes the essential tests mentioned above as well as ASTM F1670 for blood penetration. If you're looking for chemical splash protection for hazardous and nonhazardous environments, we have a disposable coverall to fit your application and work environment.
Unsure of what you need? Try our Suit Yourself® product selection tool. This handy tool allows you to select the agent (overspray, chemical splash, flames, etc.) you need protection from and recommends products in a "Good, Better, Best" format. If you have questions about our chemical clothing, please contact us.