Protect Against Mold, Asbestos, and other Remediation Hazards
Workers in environmental remediation and restoration environments need reliable protection against a broad range of chemicals and contaminants. Our disposable, remediation coveralls offer the comfort your team needs to follow safety protocols and stay safe. International Enviroguard's vast assortment of remediation PPE and disposable coveralls protect workers against common remediation hazards such as asbestos, lead, mold, and chemicals. With varying styles and levels of protection, this PPE protects workers in less hazardous environments and the most challenging ones.
Fit and Durability Saves You Money
Cheap disposable coveralls that don't fit properly, or are not well-designed, do not allow workers to move freely. This causes tears, rip outs, and the need for replacement PPE, which costs you more in the long run. All our products are made to ANSI sizing standards and are designed for greater mobility. With features such as reinforced seams, gusseted crotch areas, seamless shoulders, elastic backing, and more, your workers can bend, reach, crawl, and crouch easily.
Keep Hazardous Particulates and Chemicals Out
Our affordable PPE protects your workers from many toxic chemicals, liquids, molds, and particulates, in addition to the routine dirt and grime. From mold remediation to lead abatement and more, our PPE protects workers from known and potential hazards. For all-day comfort and convenience, shop our line of breathable, remediation suits.
ViroGuard®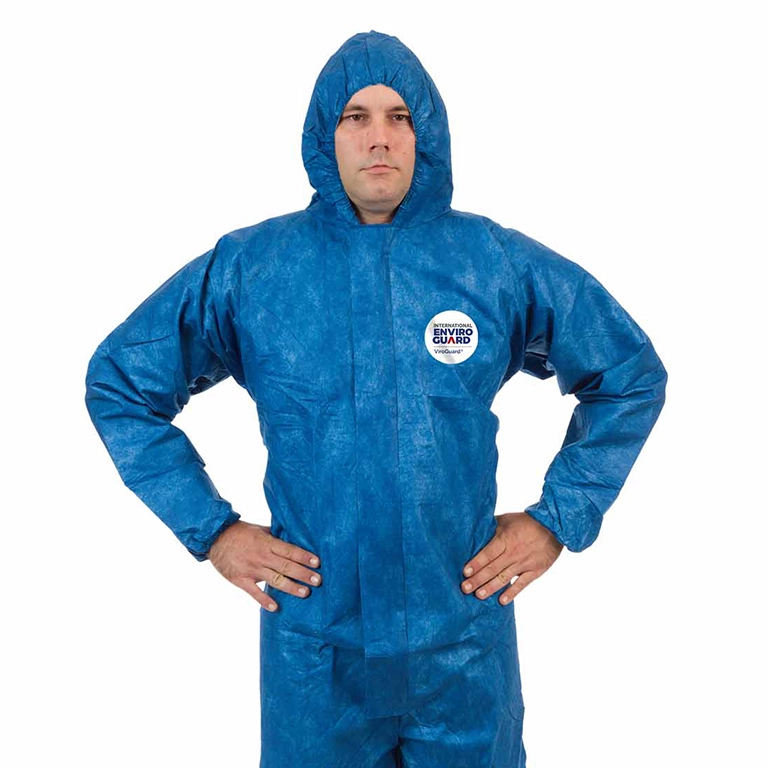 ViroGuard® protective apparel offers superior comfort and performance in a disposable product.
Enhanced moisture vapor transmission keeps workers comfortable and protected.
Seamless shoulder area provides significantly more room, allowing workers to freely move their arms and shoulders without ripping or tearing.
Elastic back stretches with the user for more comfort and better tear resistance. No need to purchase a larger size just to have more fabric in the back.
Gusseted, reinforced crotch provides more room to move in all directions without ripping or tearing.
Blue fabric makes stains and splashes on fabric less conspicuous.
ViroGuard® fabric passes ASTM F1670 and F1671 tests for protection against blood, bodily fluids and bloodborne pathogens.
Range of options available in coverall and lab-coat styles.
Read more
View All Products