Protect Your Controlled Environment
To help preserve your controlled environment, you need effective and comfortable disposable protective clothing for sterile and clean areas. The ideal garment is one that prevents product contamination, protects your workers and is comfortable enough for them to wear to be in compliance with your cleanroom protocols. We offer a full line of disposable products designed specifically to meet these criteria.
Engineered for Cleanrooms
Our disposable protective clothing has been rigorously tested and proven in many cleanroom environments. Our GammaGuard® CE product line will give you the sterility assurance you want to ensure your facility is maintaining the highest level of sterility.
Protection without Sacrificing Comfort
Our disposable products are designed to deliver superior fit and breathability to maintain your controlled environment without compromising comfort for the wearer. We deliver Comfortable Confidence™ that safeguards what matters most. Our disposable protective clothing and products fit your people, operation and budget.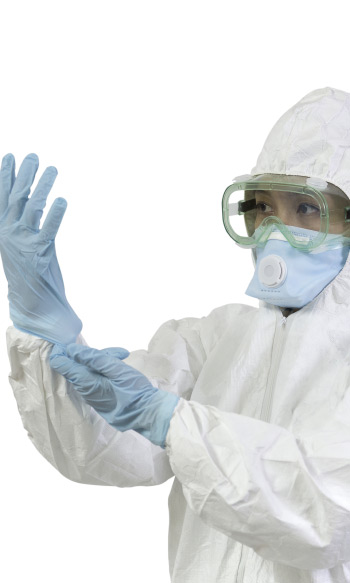 ViroGuard® 2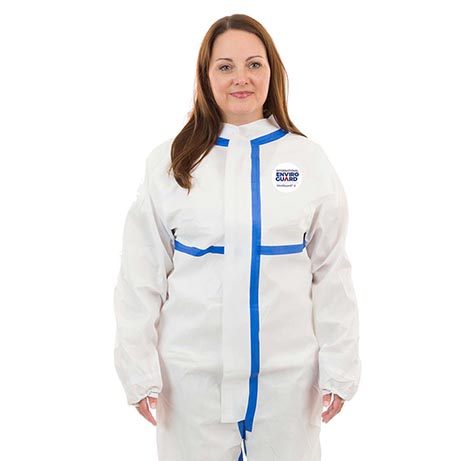 Enjoy impermeable protection with fabric and seams that pass ASTM F1670 (blood) and ASTM F1671 (blood-borne pathogens). Designed to meet the latest CDC standards for those working with PUIs who are clinically unstable or have bleeding, vomiting or diarrhea. Because of its unique design and protection factor, ViroGuard® 2 is the product of choice for most of the Regional Ebola and Special Pathogen Treatment Centers along with top key assessment facilities.
Impermeable fabric and seams pass ASTM F1670 & F1671 tests for protection against blood, bodily fluids and blood-borne pathogens.
Adjustable Mandarin collar with Velcro closure creates a better neck seal for each wearer.
Double-sided tape around wrists keeps gloves in place during donning and doffing.
Zipper front with a sealable storm flap that has a starter tab for the sealing tape. Starter tab makes it much easier for a gloved hand to pull and expose the tape for sealing the storm flap.
Large zipper pull with red fabric pull tab. Makes it easier for the wearer to see and use the pull with gloved hands and wearing a PAPR.
Thumb and finger loops work to prevent sleeves from riding up and exposing skin.
Roomy one-piece raglan sleeves provide for increased arm and shoulder movement while resisting tears.
Visible sizing tag helps materials management teams identify size easily without unfolding each suit.
Read more
View All Products