Many companies face a choice when it comes to PPE garments to protect their workers from a wide range of hazards and contaminants: Reusable versus disposalable. In some cases it's not even an either/or choice because there are some instances where both are the most effective solution (see our previous article about New Disposable FR Standards for examples of when both are used). Either way, there are several different criteria to consider when deciding what PPE garments are going to be used at your company in order to make a fully-informed decision.
The most important consideration is the degree of protection offered by the two types of PPE garments. Take the example of a medical setting where gowns and suits are used in order to protect healthcare workers from blood and other bodily fluids that could carry infectious diseases.
Disposable PPE garments for the medical sector are made of non-woven material and intended for a single use while the reusable are made of woven fabrics and meant to last through multiple uses. In both cases, the material or fabric is reinforced with some kind of membrane or film that provides the barrier to bodily fluids. Adequate protection is achieved when the garments are shown to meet standards established by such organizations as ASTM (American Society for Testing Materials), AAMI (Association for the Advancement of Medical Instrumentation) and APIC (The Association for Professionals in Infection Control and Epidemiology).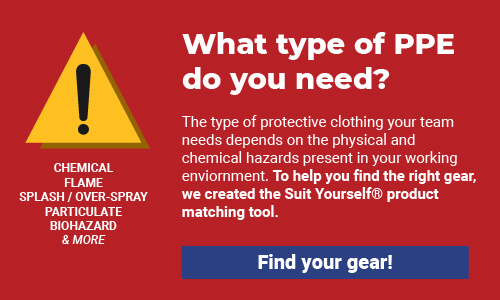 Most disposable gowns and drapes are made from a spun-lace, polyester fiber blend or a spun-bonded, melt-blown polyethylene. Both types feature a polyethylene film laminated beneath the nonwoven fabric in critical areas. It is interesting to note that 80% of hospitals in the US opt for disposable gowns and suits with the remaining 20% opting for reusables. There is a convenience factor with disposables because once you have used them, you dispose of them as biohazardous waste, whereas the reusable have to be properly laundered and maintained, and still treated as potential biohazards.
The reusable gowns and suits used in some medical settings feature a densely woven fabric such as pima cotton with a thread-count of at least 270 or 280 or a very tightly-woven 100% polyester fabric. These reusable products often can stand up to at least 75 washings and sterilization cycles before detectable deterioration of the finish appears. When that happens, they need to then be disposed of in a proper manner.
Cost Criteria for Choosing Reusable versus Disposable PPE Garments
Another consideration in the reusable versus disposable PPE garments decision-making process is the financial cost of the two types of products. As you might guess, reusable PPE garments are more expensive than disposables. It's easy to calculate the financial costs an initial purchase of both reusable and disposable garments. While this calculation is a good starting point, it doesn't tell the whole story. The true cost of reusable PPE garments needs to include a number of other costs, including the following:
Decontamination: A reusable garment that is exposed to certain hazardous contaminants must first go through a decontamination process before it is even removed, which means treatment in a decontamination chamber. There are many additional costs to maintain this decontamination facility including the labor to run it.
Laundering: Reusable PPE garments have to be properly laundered in a way that not only gets them clean, but is performed in a way that does as little damage as possible to the protective capacities of the garment. The costs associated with laundering would include the equipment, equipment maintenance, the water and detergents used during the laundering process, and the labor to do the laundering.
Sterilization: In the medical setting or other "clean room" environments, reusable PPE garments have to go through a sterilization process. Again, additional costs to maintain the sterilization equipment along with the labor costs must be calculated..
Inspections: Additional labor is needed in order to inspect the reusable PPE garments after each laundering to ensure that it is still in good enough shape for another use and that the protection capabilities from blood and blood-borne pathogens, are still intact
Repairs: When a reusable garment shows signs of failure, it must be assessed in order to determine whether or not it can be repaired. If repair is an option, there are costs associated with repairs in the form of materials and labor.
A detailed assessment and comparison of the financial costs associated with reusable versus disposable PPE garments must include the above costs associated with reusable garments for the comparison to be accurate and reflect the true costs involved.
Additional Hidden Costs of Reusable versus Disposable PPE Garments
It's also important to note that while the financial costs of PPE garments are going to be a primary consideration for any company, there are also other kinds of "hidden" costs that are worth considering, such as environmental impact. With disposable garments, there will be an additional amount of material going into the waste-stream or potential pollution when they are incinerated. With reusable PPE, there are the eco-impacts associated with laundering: increased energy consumption to run washing machines and sterilization equipment, as well as the water and chemicals used in laundering, all of which can further contribute to pollution.
What seems like a relatively simple decision of reusable versus disposable PPE garments is actually a more complex process when done thoughtfully to consider the full range of factors and criteria mentioned above. If you have any specific questions about International Enviroguard's range of disposable PPE garments that would help you make your decision, please don't hesitate to contact us – we want you to make the decision that is best for your company and its workers!