PPE for painting needs to offer protection for multiple applications in a variety of environments. From paint drips, splatters, and spray to more hazardous environments where flames are a risk, International Enviroguard can help protect workers with our wide variety of disposable painters coveralls. With styles with or without an attached hood and boots, workers can enjoy standard or full body protection.
Choice 1: Paint suit for brush applications
MicroGuard MP® paint coveralls are ideal for brush applications where there may be dripping or rubbing from a brush or roller. Coveralls are lightweight and breathable, protecting against liquids, sprays, and particulates. Non-woven fabric with a microporous film allows heat and moisture vapor to escape, so you stay cool as you paint long hours. Better yet, coveralls are designed for enhanced mobility and less rip outs with features such as seamless shoulders, gusseted crotch areas, and elastic backing. With MicroGuard MP®, you can bend, crouch, stretch, and reach in all directions comfortably.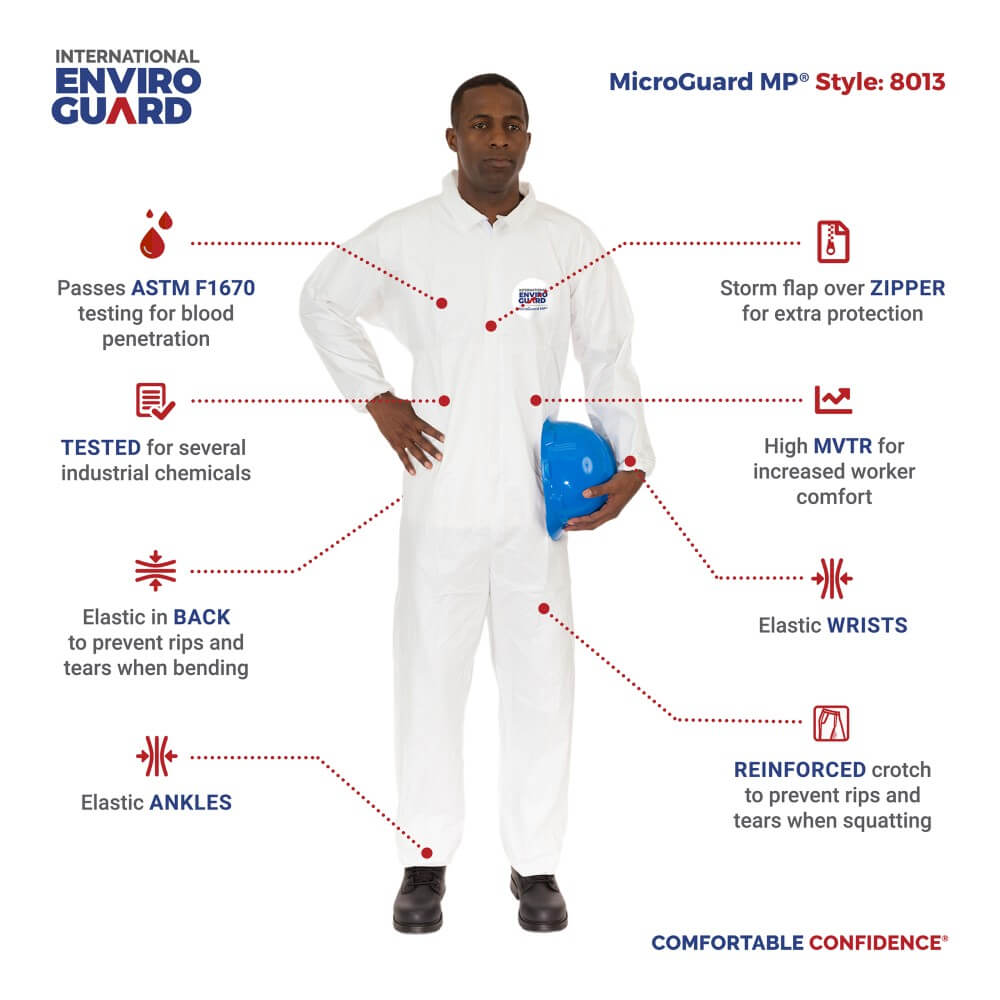 Choice 2: Paint Suit for overspray applications
When working in situations with overspray, which is considered a particulate, you need heavy duty particle protection. Body Filter 95+® breathable paint suits are designed to protect against hazardous and noxious particulates down to 0.3 microns in the 95% to 99% range. Fabric is breathable and offers exceptional abrasion resistance for durability throughout a hard day's work. Features such as gusseted crotch areas and seamless shoulders offer enhanced mobility with less rip outs or tears. Whether spray painting a car or powder coating appliances, Body Filter 95+® provides the comfort, protection, and freedom of movement to get the job done safely.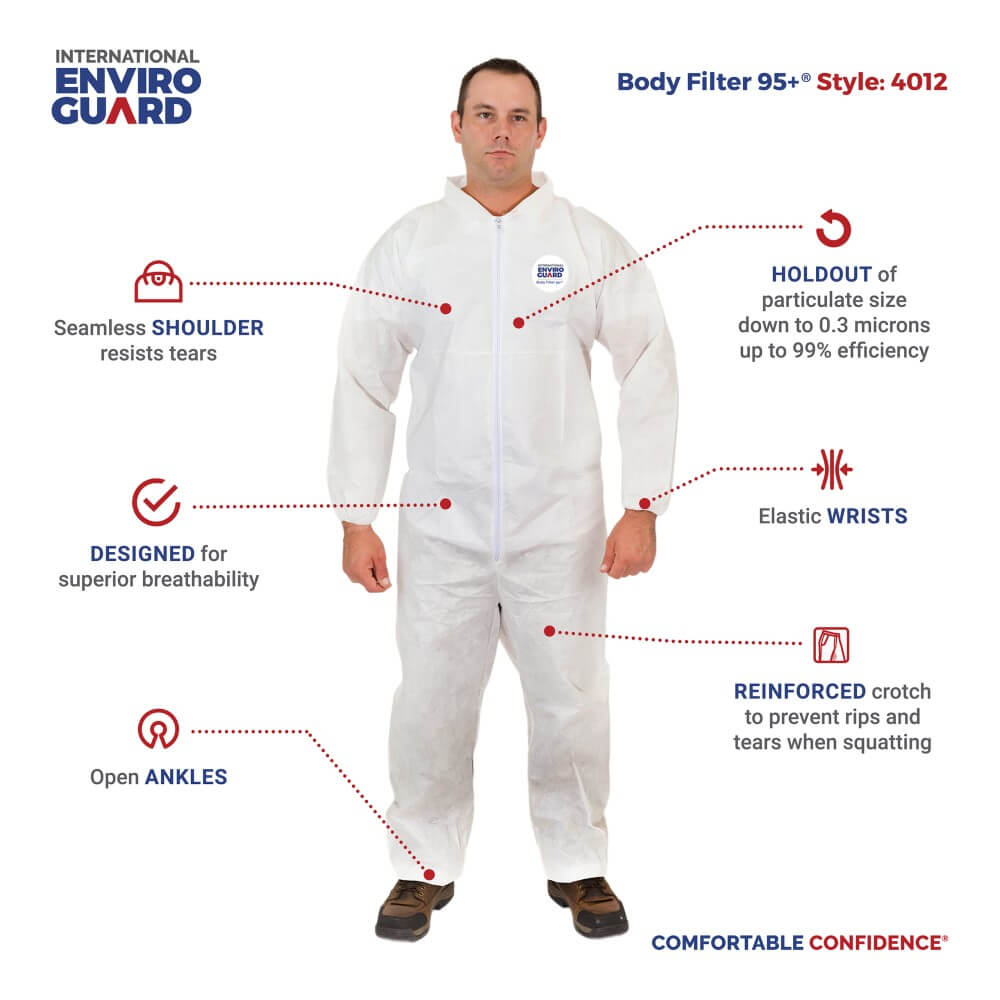 Choice 3: Paint suit with flame protection
Painting in some environments, such as a refinery, is more hazardous than others. Confined spaces, poor ventilation, and the potential for sparks can quickly ignite flammable paints and coatings. In work environments with spark and flame hazards, you can count on PyroGuard FR® flame resistant coveralls. Fabric uses a phosphate-based fire retardant to deprive flames of their fuel source to prevent the spread of flames. The breathable fabric also chars to prevent flames and molten drips. Garments pass ASTM D6413 vertical flame resistance tests for the ultimate protection against combustible vapors.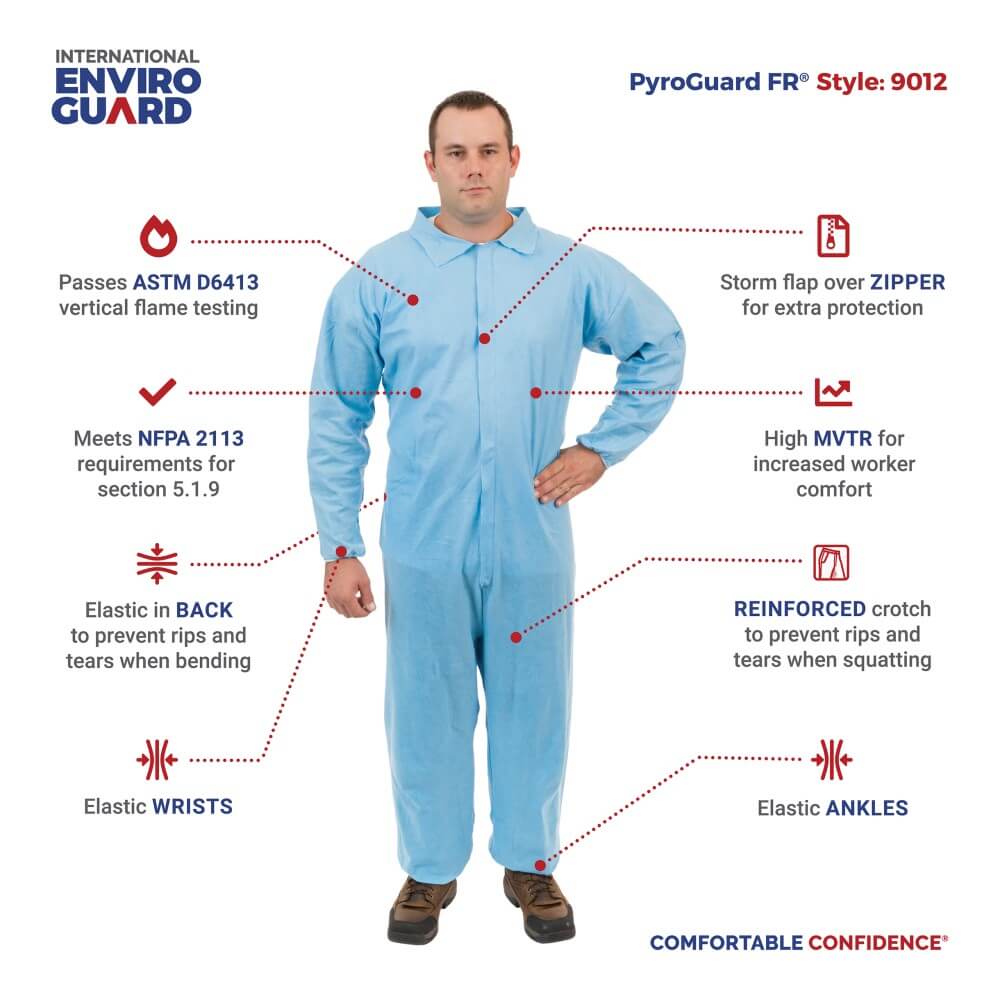 5 Tips For Choosing The Right Paint Coveralls For The Job
As a professional painter, you expose yourself to harmful chemicals and toxic fumes every time you take on a new painting project. Short or long-term exposure to commercial or industrial-grade paint can cause health problems as well as skin irritation or other medical issues.
How do you protect yourself from these job-related risks whenever you enter the work site? The answer is disposable paint suits. The appropriate paint suit protects you from contact with paint far better than regular clothing.
Below, we explore different factors that you should consider when choosing a disposable painters coveralls.
1. Choose Disposable Painters Overalls for the Right Type of Paint
Some types of paint have little to no toxicity. Other types of paint can be harmful to inhale, but not harmful to the skin. The most toxic types of paint can be detrimental upon contact or ingestion. The three most common types of paint that professionals use include:
1. LATEX
Exterior latex paint contains mercy. This substance acts as a paint preservative, as well as an agent that kills bacteria. Latex paint fumes contain volatile organic compounds (VOCs) such as toluene, formaldehyde, and benzene. Workers that are exposed to these types of compounds can suffer from a wide range of health issues if exposed for long periods.
2. OIL-BASED
Oil-based paints may contain toxic elements such as hydrocarbons and high levels of VOCs. Consequently, the most significant health issues that can occur as a result of inhalation or paint poisoning include skin irritation, vision problems, respiratory conditions, coughing, disorientation, accelerated heart rate, or sinus complications.
The Environmental Protection Agency states that some VOCs in oil-based paints may cause cancer. Exposure to oil-based paint may cause organ and central nervous system failure some workers may be particularly sensitive to oil-based paint and will experience dizziness or upset stomach if exposed to paint for long periods. They may also have difficulty breathing or develop rashes on the skin.
3. SOLVENT-BASED PAINTS
Solvent-based paints can cause greater skin irritation or ingestion problems than other types of paint. Workers that inhale solvent fumes may experience medical issues in the lungs. Long-term inhalation can also lead to severe headaches, upset stomach, or dizziness.
Whether painters are applying paint with a brush, a roller, or a sprayer, the skin can absorb paint fumes and particles through in the air. Wearing paint suits can help reduce or eliminate health risks by shielding the skin from all paint toxins and fumes during paint jobs.
2. Look for a Disposable Painters Suit with Optimal Breathability & Comfort
When it comes to disposable paint suits, you don't have to sacrifice comfort for safety. One of the characteristics of quality disposable suits is moisture vapor transmission rate (MVTR). The suit should allow body heat and sweat vapor to pass through the suit without compromising the permeability of the material against chemicals and paint fumes.
Comfortable paint suits allow workers more flexibility in the shoulder and back area so that they can utilize paint equipment more efficiently and without fatigue. A gusseted crotch area gives workers the ability to squat and bend with a lower likelihood of tearing the suit.
3. Make Sure the Disposable Painters Suit is Durable
Durability is a crucial element in disposable paint suits. The material must be rugged, puncture-resistant, and be able to withstand intense work environments. The best paint suits contain advanced lamination technology that combines soft non-woven fabric with a microporous film. This material creates a liquid and particulate barrier that protects the worker from exposure to toxic substances.
4. Buy Disposable & Recyclable Disposable Painters Overalls
Disposable paint suits may seem like a cheap alternative to more expensive suits that workers keep and wash over and again. However, disposable suits offer the same level of protection against paint particles and fumes as non-disposable suits, but with the following advantages:
Disposable suits are a more cost-effective solution and save companies money on paint gear.
Rather than waste money on water consumption and cleaning supplies, workers can dispose of the suit one or more times per day.
Disposable suits are recyclable. Manufacturers can fabricate paint suits for reuse many times over.
5. Make Sure the Suits Meet OSHA Regulations
According to OSHA regulations, all workers exposed to paint must wear personal protective equipment (PPE) whenever the painter is exposed to potential hazards that arise from chemical exposure such as commercial or industrial paint.
Disposable paint suits must shield or isolate workers from the chemical effects of paint that could cause immediate medical issues such as skin irritation or burning, as well as long-term health issues such as inhalation that leads to respiratory problems over time.
OSHA explains that both exposure to paint substances and the health risks that it has on workers is not always apparent. Therefore, employers must be proactive in choosing the right disposable suit that prevents potential problems before they occur.
Protect Yourself with High Quality Disposable Protective Clothing
If you are looking for PPE for your painters, then contact International Enviroguard. We offer a wide range of protective clothing for workers in all hazardous and environments and industries.
To find out more about our products or to place an order, call us today at (800) 345-5972. You can also send a message on our contact page.