Cleanroom apparel has two major functions. It protects the controlled environment and the products from human contamination. It also protects the cleanroom personnel from harmful products or materials. For these reasons, the apparel should have the following properties:
Shed very little or no particles
Easy to put on and comfortable
Easy to clean and dirt repellent
Stand sterilization and washing
Sturdy and break-up resistant
Without adequate personal protective equipment (PPE), cleanroom apparel can be a major source of contamination. For example, NASA's Hubble Space Telescope  failed to perform as was expected due to particles that were 200 times smaller than a human hair. This is why limiting or eliminating the number of particles in these environments is so critical.
What is cleanroom apparel?
Cleanroom clothing refers to any form of clothing or related covering material which is worn in a cleanroom environment. It includes  coveralls , lab coats, trousers, hair covers, gloves, face masks, goggles, boot covers, and  shoe covers. Low-level cleanrooms may only need a few cleanroom products such as special boots that will not track in dirt or dust. In a high-level controlled environment, personnel may need to put on a bunny suit or an all-in-one coverall.
The science behind cleanroom apparel
It is difficult to ensure that the contamination levels in a controlled environment stay below the acceptable threshold. The machinery, equipment, tools, and the air in the controlled environment contain pollutants. However, the biggest source of contamination is the cleanroom personnel.
Unlike tools and equipment, it's impossible to sterilize humans completely. Controlled environment personnel continually emit hairs, dead skin, and generate microbial contamination that is released into the air or the surrounding environment. This makes it necessary to wear garments that prevent contamination as well as protect the wearer.
Factors to consider when choosing your cleanroom apparel
The first factor you should consider when selecting appropriate cleanroom consumables is their class. In high-level controlled environments, personnel need to be fully covered to minimize the chances of body contamination. For example, employees working in ISO class 5 controlled environments need to put on full-body coveralls, hoods, boots, gloves, masks, and goggles. On the other hand, those working in ISO class 8 environments only need to cover their hair, faces, normal attire, and shoes.
You also need to consider the apparel fabric. Make a choice based on its weight, filtering ability, breathability, comfort, strength, and durability. Some of the most common apparel fabrics for controlled environments include:
SMS fabric – this apparel is made of polypropylene (PP), but it has three layers rather than one. Such apparel is made by sandwiching a layer of melt-blown PP between two layers of spunbound PP. This results in extremely durable, breathable, liquid-resistant, and low-linting cleanroom PPE.
Microporous fabric – microporous controlled environment apparel is made using PP that is laminated with a layer of polyethylene. This apparel will provide you with the highest durability. They are perfect for high-level controlled environments
Different controlled environments have varying operating procedures. For instance, some may require their personnel to change their garments weekly. Others require them to use theirs for some time. If the personnel work in a controlled environment where they have to change their apparel frequently, disposable cleanroom PPE is the most suitable option.
You also need to consider the static charge generated by your controlled environment apparel. For example, fabrics that generate high static charges should not be used in electronic component manufacturing industries or explosive atmospheres. Cleanroom garments with a high static charge are also likely to attract contaminants and bacteria.
Along the same line, OSHA regulations demand that controlled environment personnel wear clothes that are flash-flame-resistant if they work in a setting where the threat is prevalent. In that case, you will need to invest in flame-resistant (FR) labeled controlled environment apparel. You need to choose controlled environment fabrics that are compatible with other accessories, including face masks and gloves.
Clean-processed and controlled clean room vs sterile room garments
While these terms might appear interchangeable, they are completely different as far as the controlled environment is concerned. Sterile apparel could be manufactured in any facility. After the manufacturing process, the garments go through a sterilization process through gamma radiation. Sterile, controlled garments are not usually clean-processed. For this reason, they are prone to introducing foreign particles into your controlled environment.
On the other hand, clean-processed and sterile clothing is manufactured in a controlled manufacturing environment. This means that such garments are manufactured by operators who do not add contaminants onto the apparel during the manufacturing process. Even the packaging is controlled to ensure no loose particles or contaminants are introduced to the garment or within the packaging.
Cleanroom garment construction
The sole purpose of controlled environment apparel is to contain the wearer's contamination. Therefore, they should not be a source of contamination. Rather, they should be constructed in a way that ensures that this goal is achieved.
The apparel should have no fabric edges. All seams need to be lapped or bound. Apart from containing the contaminants from the edges, such seams prevent free air passage (and thus contamination) from the apparel's inside into the controlled environment.
Features such as pleats, pockets, and so on should also be avoided during construction. The fabric should be non-linting and static dissipative or anti-static. Non-linting fabric does not release particulates into the critical environment. Cleanroom clothing should be well-fitting to enable the personnel to fasten cuffs and collars as they should.
Controlled environment garments should be evaluated for particulate emission. Also, consider the processes the garments will go through in the course of their lifecycle. These processes go beyond basic laundering to sterilization processes such as autoclaving or gamma radiation. These have a negative effect on the apparel's lifespan and performance efficiency.
Although proper gowning techniques could significantly reduce the probability of contamination, you need to invest in appropriate apparel. International Enviroguard offers a wide range of disposable controlled environment apparel suitable for ISO 5 through ISO Class 9.
MicroGuard CE®  - suitable for environments that do not require sterile garments. This disposable cleanroom PPE has been tested for various industrial chemicals. They feature a tunnelized elastic which contains particle shed. They are available in clean-processed individual packaging.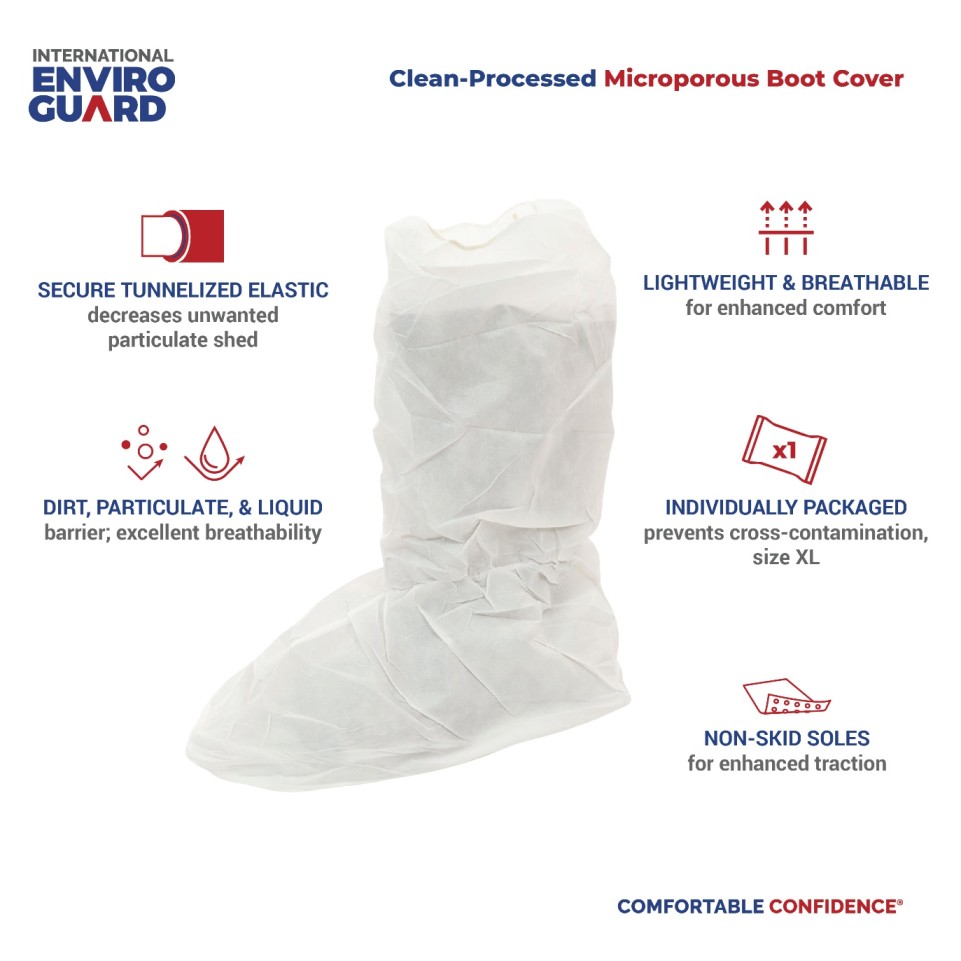 GammaGuard® CE– these are suitable for critical environments. They are low-linting as well as tear-resistant. They are packed individually and clean-processed. The entire product range is sterilized to a 10-6 SAL.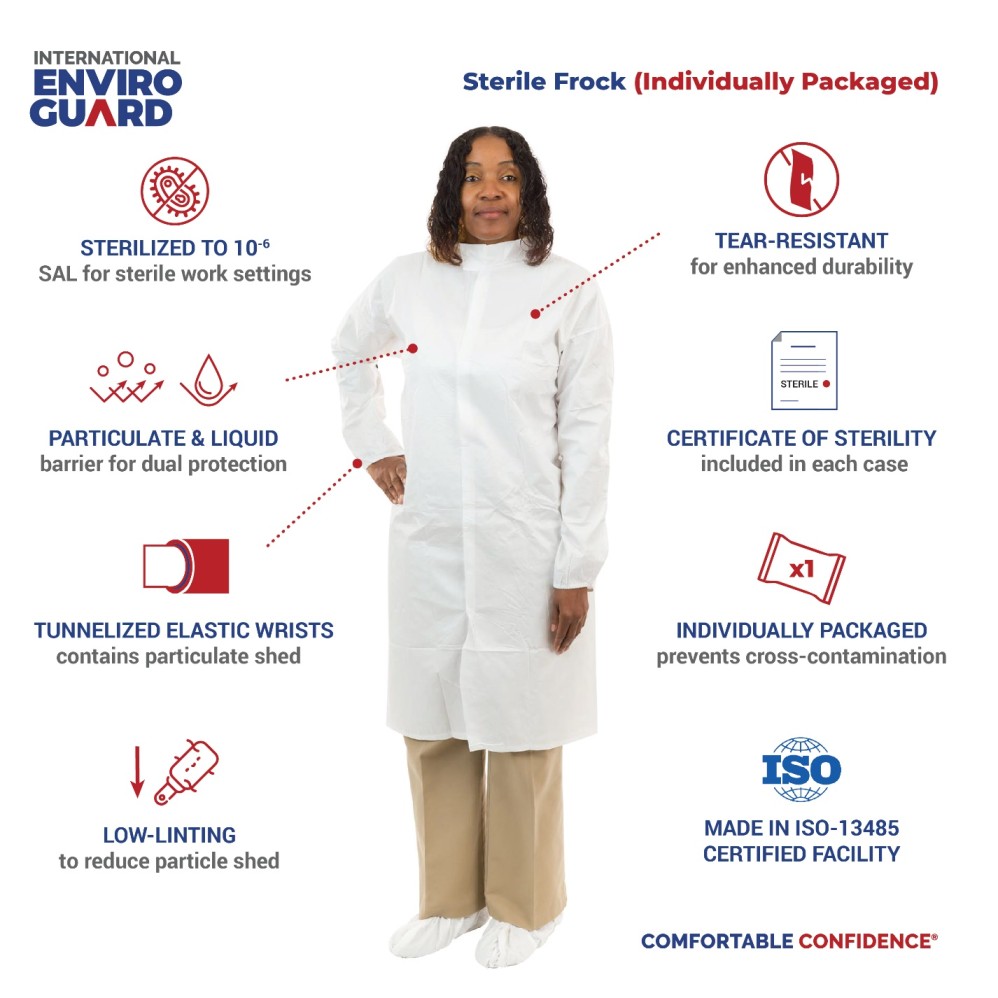 Confidence in your controlled environment begins when you understand how to select the most suitable fabric for your space. International Enviroguard is a well-established manufacturer of controlled environment apparel. We will be happy to walk you through the various options and answer all your questions regarding our cleanroom apparel manufacturing process. These products are manufactured in ISO 13485 certified manufacturing plants.