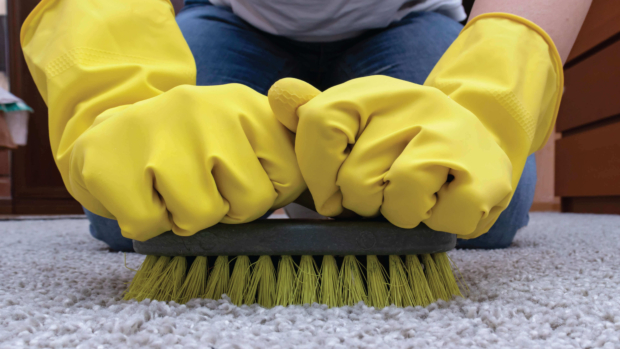 Every now and then, you get to the end of a construction or remodeling project and realize that the customer's carpet is damaged due to paint spills, dust, or other debris. At that point, you spend additional funds from your budget to replace or professionally clean the carpeting. This is why carpet protective film is so important.
Using a quality carpet protector from the beginning is the easiest way to prevent issues like this from happening. Instead of paying a premium to repair or replace the flooring, carpet guards are an inexpensive alternative you can use at the start of a project to help prevent costly accidents. Below are six benefits of using carpet guards during commercial projects.
1. Keep Accidental Spills and Stains from Causing Bigger Messes
Carpet stains are a problem that must be handled accordingly to keep your property owner happy. Accidental spills and stains are going to happen but having a layer of protection can make cleanup easier and more cost-effective. Protective carpet films provide a plastic barrier between messes and carpet fibers or flooring. This means that anything that spills can be easily wiped up or disposed of without having to use special chemicals and cleaning methods.
If the mess is more extensive, carpet protection is economical enough to simply replace. Better yet, carpet protectors have a special adhesive backing that keeps them firmly in place for up to forty-five days, meaning no sliding around or movement even with high foot traffic.
2. Carpet Guards Help Reduce Dust and Debris
Some construction projects create more dust and debris than others. For example, projects that require heavy demolition days where you're moving walls and replacing sheetrock typically generate a lot of unwanted particulates that spread across the working area. As a contractor, these can be some of the more rewarding remodeling and renovation jobs to take on. However, placing a carpet guard in adjoining areas where you don't want dust or debris to settle can help with cleanup and overall protection of the workspace.
While you may cover other areas or furniture with thick plastic sheeting, you'll want to use a specially designed carpet film especially in high traffic areas. This allows your team to move freely throughout the space without worrying about it sliding around or coming loose throughout the project.
3. Using a Carpet Protector Preserves New Flooring
Timing is a critical factor when it comes to construction and commercial projects. The weather and subcontractor availability often dictates when new flooring or carpeting is installed, and it isn't always the last thing you do to wrap up the job. In fact, you may have multiple subcontractors working on other areas long after new carpet installation(s).
Placing a carpet guard in high traffic areas like front entries and stairwells is extremely important to keep brand new carpet looking pristine until all the finishing touches are complete. Again, stains and spills can happen at any time. Spending a few extra dollars for a roll of carpet protector is still better than having to pay someone to fix or completely replace the carpet later.

4. Carpet Guards Can Be Used for Short-Term Projects
What if your company doesn't do big renovations, but rather comes in for short-term projects that only last a few hours? Having each technician or team member carry a carpet protection roll in their work truck is a great idea. This also helps improve the customer's opinion of your company.
For example, an HVAC technician may go back and forth from his work van while trying to fix a customer's furnace. Instead of tracking mud or other debris from outside onto the property owner's carpet, placing a plastic barrier along his or her path can help protect carpeting while they're working. When the project is complete, the technician can quickly remove the carpet film and throw it away. Not only does this help keep mess to a minimum, it shows clients that you care about keeping their home is as clean as it was when you first arrived.
5. Carpet Protectors Work as an Excellent Moisture Barrier
Another important time to use carpet protection is when working with water or other nonhazardous liquids. This can be a commercial building where a team is working on fire sprinklers or a plumbing job. Moisture is an enemy when it comes to carpet padding. Using a plastic guard helps prevent accidental damage to carpeting and surrounding areas.
Carpet guards are waterproof and puncture resistant. Even if a pipe bursts during repairs, or water rains from the ceiling unexpectedly, carpeting stays dry. Less cleanup time for your team and added peace of mind against the unknown are well worth keeping a roll or two handy.
6. Carpet Guards Look More Professional
When it comes to commercial projects, the opinion of the property owner(s) matters. If they feel that your company isn't professional or that your workers don't care about treating their project appropriately, there's a good chance that they won't hire you again. Even worse, they may leave a bad review online to warn other home and business owners from working with you.
When employees and technicians take the extra time to put down a carpet guard at the start of services, it's more professional and shows they care about the job they're doing. In the end, this translates to better customer satisfaction for the work done.
International Enviroguard and Carpet Protection
Finding a quality carpet guard isn't always easy. Many home improvement warehouses offer similar products, but they don't always stack up in terms of durability and longevity. That's where International Enviroguard is different. Our full line of carpet protector film is designed specifically for heavy duty use, such as construction and renovation projects.
Our carpet guards come with adhesive that doesn't leave a film behind. What's more, these durable guards are puncture resistant and water resistant, so they're suitable for a variety of work environments. With a wide range of sizes, your business can eliminate issues in walkways, foyers, hallways, and entire rooms without having to make cuts.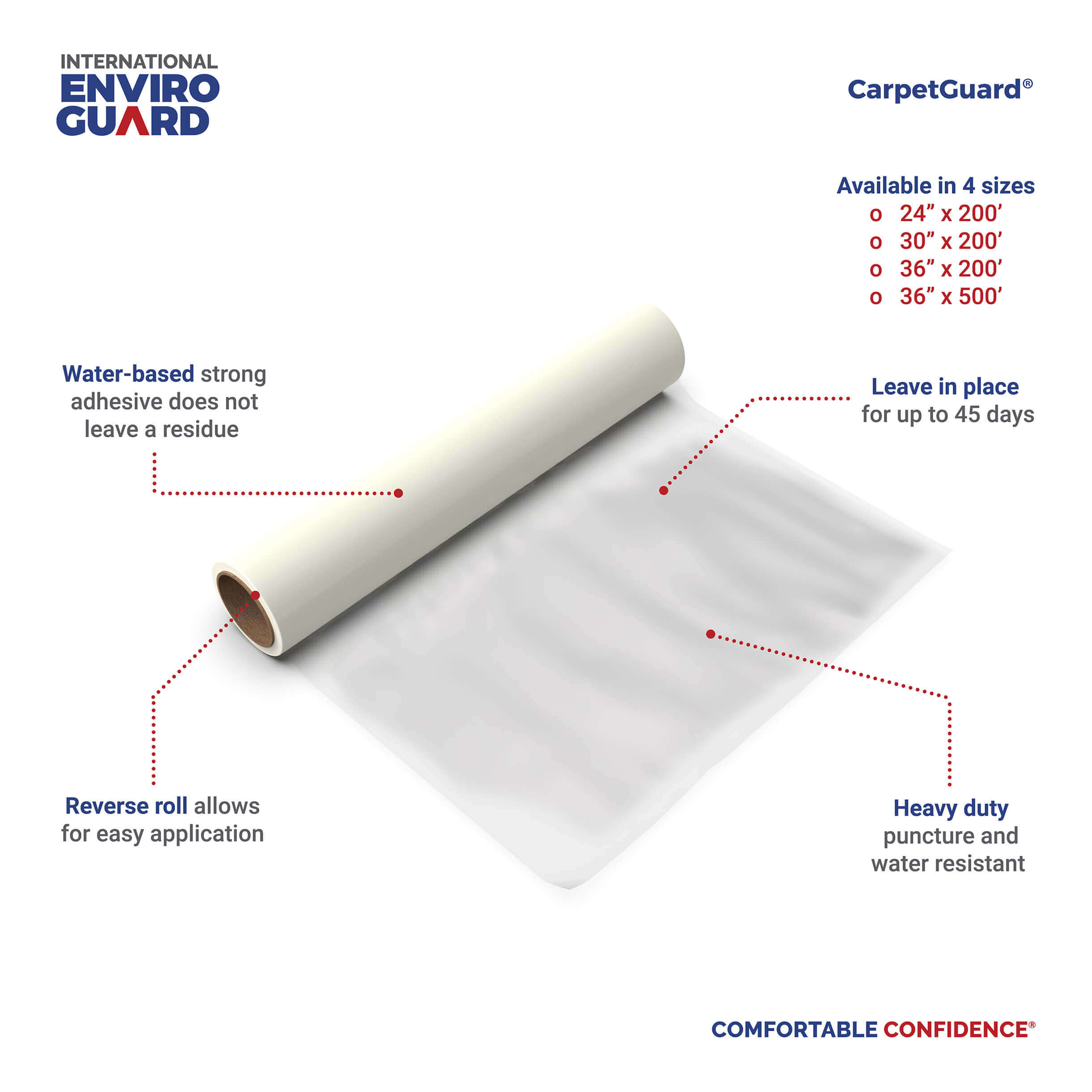 Whether you're working a construction project that has new carpet or just helping a property owner with something small, having a layer of carpet protection is important.